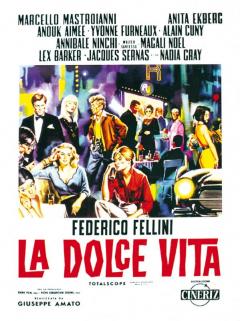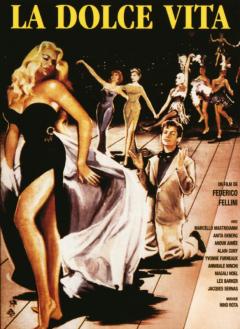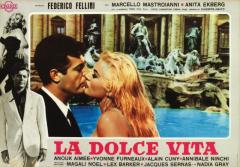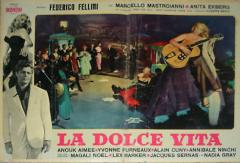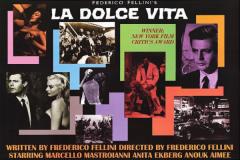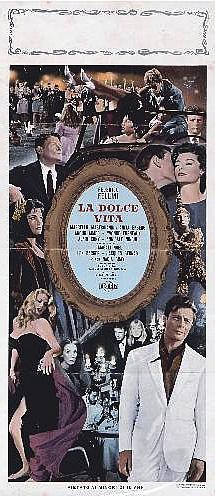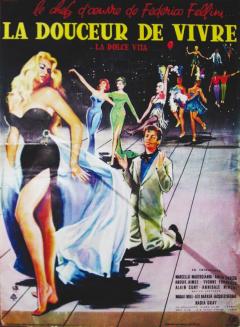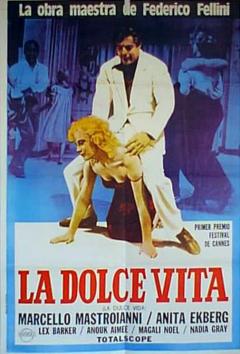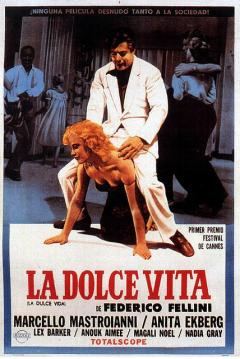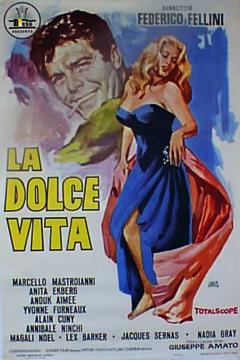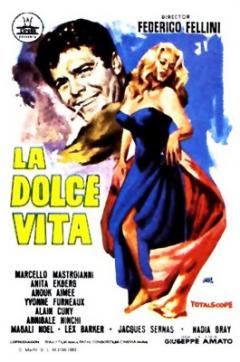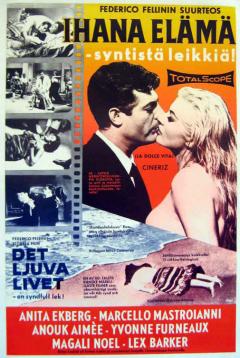 La dolce vita
Production:
Riama Film (Roma), Pathé Consortium Cinéma (Paris)
Marcello is a gossip columnist, and is searching for a way to become a serious writer. He's fully involved in Rome's 'dolce vita'. He's flirting with an aristocrat who's always looking for new emotions. He has a partner, Emma, and feels oppressed by her jealousy; she attempts to commit suicide. He woes Sylvia – a very popular and explosive movie star – to no avail. Sylvia bathes in the Trevi Fountain and is very sexy. Two children invent a fake vision of the Virgin Mary and he meets a sophisticated intellectual, Mr. Steiner. Marcello admires his family and his apparently ideal life style. Mr. Steiner, however, kills his own children and then commits suicide. Marcello's old father comes to see him and gets ill, Emma abandons him, and other events follow one another. After another orgy occurring during the night, at dawn the tired and dazed participants find the carcass of a sea monster stranded on the beach.
Crew
Director:
Federico Fellini
Story:
Federico Fellini, Tullio Pinelli, Ennio Flaiano (da un'idea di Federico Fellini)
Screenplay:
Federico Fellini, Ennio Flaiano, Tullio Pinelli
Screenplay collaboration:
Brunello Rondi
Cinematography:
Otello Martelli (Totalscope)
Camera operator:
Arturo Zavattini
Assistant camera:
Ennio Guarnieri
Musical director:
Franco Ferrara
Singers:
I "Campanino" e Adriano Celentano
Production design:
Piero Gherardi
Costume design:
Piero Gherardi
Assistant production designer:
Giorgio Giovannini, Lucia Mirisola, Vito Anzalone
Makeup artist:
Otello Fava
Film editing:
Leo Catozzo
Assistant editor:
Adriana Olasio, Wanda Olasio
First assistant director:
Guidarino Guidi, Paolo Nuzzi, Dominique Delouche
Second assistant director:
Giancarlo Romani, Gianfranco Mingozzi, Lilli Veenman
Artistic advisor:
Brunello Rondi
Hair Stylist:
Renata Magnanti
Producer:
Giuseppe Amato, Angelo Rizzoli
General manager:
Clemente Fracassi
Executive producer:
Franco Magli
Script supervisor:
Isa Mari
Production manager:
Manlio M. Moretti, Nello Meniconi
Production supervisor:
Alessandro von Normann
Production secretary:
Mario Basile, Mario De Biase, Osvaldo De Micheli
Cast
Marcello Mastroianni
: Marcello Rubini
Walter Santesso
: paparazzo
Giulio Paradisi
: 2° fotografo
Enzo Cerusico
: 3° fotografo
Enzo Doria
: 4° fotografo
Cesare Miceli Picardi
: signore irritato nel dancing
Donatella Esparmer
: signora con signore irritato
Maria Pia Serafini
: 2° signora con signore irritato
Adriana Moneta
: prostituta
Anna Maria Salerno
: 2° prostituta
Oscar Ghiglia
: 1° sfruttatore
Gino Marturano
: 2° sfruttatore
Thomas Torres
: giornalista ospedale
Carlo Mariotti
: infermiere
Carlo Di Maggio
: Totò Scalise produttore
Francesco Luzi
: il radiocronista
Francesco Consalvo
: assistente di Scalise
Guglielmo Leoncini
: il segretario di Scalise
Sandy von Norman
: interprete conferenza stampa
Tiziano Cortini
: operatore cinegiornale
Maurizio Guelfi
: giornalista conferenza stampa
Adriano Celentano
: cantante rock'n'roll
Gondrano Trucchi
: cameriere Caracallas
Giò Staiano
: giovane effeminato
Archie Savage
: ballerino negro
Alan Dijon
: Frankie Stout
Paolo Labia
: cameriere casa Maddalena
Giacomo Gabrielli
: il padre di Maddalena
Valeria Ciangottini
: Paola
Alfredo Rizzo
: regista TV
Alex Messoyedoff
: il prete del miracolo
Rina Franchetti
: la madre dei miracolati bugiardi
Aurelio Nardi
: lo zio dei miracolati bugiardi
Marianna Leibl
: madre che chiede il miracolo
Giovanna
: bambino miracolato
Massimo
: bambino miracolato
Reneé Longarini
: la signora Steiner
Iris Tree
: invitata casa Steiner
Leonida Rapaci
: invitato casa Steiner
Anna Salvatore
: invitata casa Steiner
Letizia Spadini
: invitata casa Steiner
Margherita Russo
: invitata casa Steiner
Winie Vagliani
: invitata casa Steiner
Desmond O'Grady
: invitato casa Steiner
Nello Meniconi
: litigante via Veneto
Massimo Busetti
: pettegolo via Veneto
Annibale Ninchi
: il padre di Marcello
Vittorio Manfrino
: direttore tabarin
Nico Otzak
: ragazza sofisticata via Veneto
Principe Vadim Wolkonsky
: Principe Mascalchi
Giulio Questi
: Don Giulio Mascalchi
Ida Galli
: la debuttante dell'anno
Mario De Grenet
: il ragazzo stanco con i cani
Franco Rossellini
: il bel cavallerizzo
Maria Marigliano
: Massimilla
Loretta Ramaciotti
: l'invasata alla seduta
Giuseppe Addobbati
: dottore
Paolo Fadda
: vice commissario
Vando Tres
: commissario di zona
Franco Giacobini
: giornalista che telefona
Giuliana Lojodice
: cameriera casa Steiner
Federika André
: inquilina casa Steiner
Giancarlo Romani
: carabiniere
Mino Doro
: amante di Nadia
Antonio Jaconi
: "travesti"
Carlo Musto
: "2° travesti"
Tito Buzzo
: il bruto muscoloso
Sandra Lee
: la ballerina di Spoleto
Leontine von Strein
: l'amante divo
Leo Coleman
: il ballerino negro
Laura Betti
: l'attrice-cantante bionda, Laura
Daniela Calvino
: Daniela
Christine Denise
: la signora che mangia il pollo
Riccardo Garrone
: Riccardo il padrone di casa
Decimo Cristiani
: spettatore dello spogliarello
Umberto Orsini
: spettatore dello spogliarello di Nadia
Sandra Tesi
: spettatrice dello spogliarello di Nadia
Renato Mambor
: ballerino
Mario Conocchia
: spettatore dello spogliarello di Nadia
Enrico Glori
: ammiratore di Nadia
Lucia Vasilicò
: ragazza che si confessa
Franca Pasutt
: ragazza coperta di piume
Awards
Nastro d'argento per miglior attore
Nastro d'argento per miglior soggetto originale
Nastro d'argento per miglior scenografia
David di Donatello per miglior regia
Festival de Cannes: Palma d'oro per miglior film
Nomination Oscar per miglior regia
Nomination Oscar per miglior soggetto e sceneggiatura originali
Nomination BAFTA (British Academy of Film and Television Arts Awards) per il miglior film
Peculiarites
"I had decided that Nadia's character would wear white bra and panties under her dark dress. I thought that contrast would be sensational and very sexy, but Nancy Gray, the actress, refused. She said no fashion-oriented woman would have ever worn white bra and panties under a dark dress, as you would catch a glimpse of them beneath the dress. Plus, she wouldn't feel at ease taking a dark dress off and showing white underwear. She told me she couldn't do it, as this absolutely didn't suit her character. She was so convincing I believed her, and we accepted black bra and panties".
(Charlotte Chandler, Io, Federico Fellini, Mondadori, Milano, 1995, pp. 160-161)
Reviews
Cruel analyses, shared feelings and vision are encompassed and mixed up in this terrible and fascinating polyptych on a modern Babylon. [...] The fact that he voices his opinions and condemnations while being deeply sympathetic with his characters – including the shabbiest - and puts himself in their shoes thus discovering their underlying reasons, is an evidence of this film's high level of vitality, force and mercy.
"Schermi", a. III, n. 20, gennaio-febbraio 1960
This film – one of the most terrible, forceful and tragic ones we've ever seen on screen – portrays all the false concepts, distortions and corruptions of our age. It is the funerary portrait of a society that is apparently still young and healthy and that - as in medieval paintings - dances with the Death without seeing it. It is the 'human comedy' of a crisis that, as in Goya's drawings or Kafka's stories, is turning men into monsters while they are not aware of what is going on. Is it full of polemics, symbols, allegory, or indictments? No, it isn't. Fellini willingly decided not to 'prove his case', and avoided programs, rhetoric and morality; he rather described contemporary 'monsters'. [...] And he did that while resorting to powerful drama, force and a new language. That is why – notwithstanding some weaker episodes (when said traits are over-stressed or turn out to be unpleasant) – this film is surely one of the most "modern" works of art in film-making.
"Il Tempo", 5 febbraio 1960
The multiple opportunities offered by film-making (images, dialogues, music, acting, editing, shooting angle, depth or width) are combined most successfully and completely here, and have been utilized to the full [...] At the same time, however, this technical perfection is not imposed on us, it is not that of a virtuoso [...] The purest and most daring cinema is [in 'La dolce vita'] based on one of the deepest and most original visions of our time. The two main tendencies of the Italian school, namely shooting stories taken from Zavattini's novel and anticipating the future based on Rossellini's vision of the present, are combined here, thanks to a truth-oriented research work.