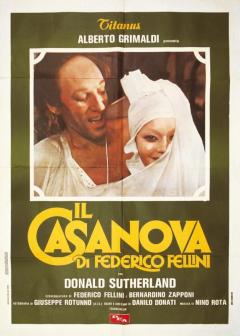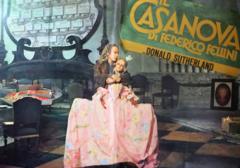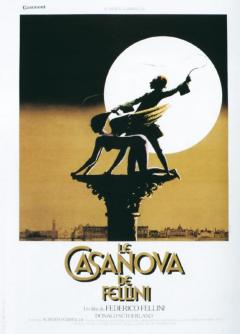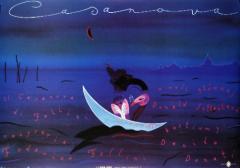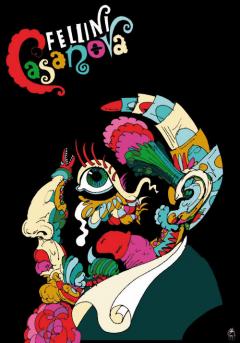 Fellini's Casanova
During the Venice Carnival Giacomo Casanova accepts to make sex with a fake nun to please the woman's lover - who's a French ambassador and a voyeur - and hopefully draw some advantages. He is instead arrested by the Inquisition and charged with black magic. Casanova escapes from prison and goes to the Paris, where he is given hospitality by Madame d'Urfé. The latter would like him to tell her the secret of immortality. Casanova leaves Paris and resumes his hectic life as a seducer. He meets a beautiful girl, Henriette, 'the love of his life', who leaves him. Casanova makes a sexual bet with a stagecoach driver, and wins it. When he's in Rome he meets the Pope and his mother, who does no longer care for him. Time goes by and an old Casanova works as a librarian. He has lost his charm, and he has been forgotten by the courts. At the ends he dances with Rosalba, a mechanical doll, that reminds him of his past.
Crew
Director:
Federico Fellini
Story:
liberamente basato su "Storie della mia vita" di Giacomo Casanova
Screenplay:
Federico Fellini, Bernardino Zapponi
Cinematography:
Giuseppe Rotunno (Technicolor)
Camera operator:
Massimo Di Venanzo
Assistant camera:
Wolfgango Soldati, Bruno Garbuglia
Musical director:
Carlo Savina
Songs:
"La grande mouna" di Tonino Guerra, "La mantide religiosa" di Antonio Amurri, "Il cacciatore di Wurtemberg" di Carl A. Walken
Venetian dialect poems:
Andrea Zanzotto
Production design idea:
Federico Fellini
Production design:
Danilo Donati
Costume design:
Danilo Donati
Wardrobe assistant:
Gloria Mussetta, Raimonda Gaetani, Rita Giacchero
Architecht:
Giantito Burchiellaro, Giorgio Giovannini
Assistant production designer:
Antonello Geleng
Film editing:
Ruggero Mastroianni
Assistant editor:
Adriana Olasio, Marcello Olasio, Ugo De Rossi
First assistant director:
Maurizio Mein, Liliana Betti, Gerard Morin
Script supervisor:
Norma Giacchero
Production supervisor:
Gilberto Scarpellini, Alessandro Gori, Fernando Rossi
Set decorator:
Emio D'Andria
Sound:
Oscar De Arcangelis
Sound assistant:
Franco De Arcangelis, Massimo De Arcangelis
Assistant choreographer:
Mirella Agujaro
Building supervisor:
Italo Tomassi
Paintings:
Rinaldo Geleng, Giuliano Geleng
Magic lantern designer:
Roland Topor
Sculptures:
Giovanni Giannesi
Makeup artist:
Rino Carboni (Giannetto De Rossi e Fabrizio Sforza per Donald Sutherland)
Hair Stylist:
Vitaliana Patacca
Hair Stylist assistant:
Gabriella Borzelli, Paolo Borzelli, Vincenzo Cardella
Special effects:
Adriano Pischiutta
Producer:
Alberto Grimaldi
General manager:
Giorgio Morra
Production manager:
Lamberto Pippia
Assistant to producer:
Alessandro von Normann, Mario Di Biase
Production secretary:
Titti Pesaro, Luciano Bonomi
Cast
Donald Sutherland
: Giacomo Casanova
Cicely Browne
: la marchesa Durfé
Carmen Scarpitta
: la signora Charpillon
Diane Kourys
: la signora Charpillon
Clara Algranti
: Marcolina
Margareth Clementi
: Suor Maddalena
Mario Cencelli
: Dott. Mobius l'entomologo
Silvana Fusacchia
: altra figlia dell'entomologo
Chesty Morgan
: Barberina
Adele Angela Lojodice
: la bambola meccanica
Sandra Elanie Allen
: la gigantessa
Clarissa Maryè Roll
: Annamaria
Alessandra Belloni
: la principessa
Angelica Hansen
: attrice gobba
Marjorie Belle
: Contessa di Waldestein
Marie Marquet
: la madre di Casaova
Daniel Emilfork-Berestein
: Du Bois
Luigi Zerbinati
: il Papa
Awards
Oscar Best Costume Design
Silver Ribbon for Best Cinematography
Silver Ribbon for Production Design
Silver Ribbon for Costumes Design
David di Donatello Best Music
Nominated Oscar Screenplay Based on Material from Another Medium
BAFTA (British Academy of Film and Television Arts Awards) Award (Great Britain) for Best Production Design
BAFTA (British Academy of Film and Television Arts Awards) Award (Great Britain) for Best Costumes Design
Nomination BAFTA Best Cinematography
Peculiarites
"At first I thought I'd assign Casanova's role to Gian Maria Volonté. It would have been beneficial to the Italian actor, after playing so many tormented historical characters who have made great achievements. On the other hand playing Casanova would have meant making a leap backwards for him. Nevertheless contracts have never been signed with him, due to several postponements. I then entrusted Donald Sutherland with Casanova's role, as he is a reliable, skilled and professional actor."
Fellini. Raccontando di me, conversazioni con Costanzo Costantini, Editori Riuniti, Roma, 1996, p. 138
Reviews
Fellini was not at all interested in Casanova. He was just one of his ghosts, part of one of his dreams. He was a monster among other monsters, who live in the imagination of an artist grown up in a small town overlooking the Adriatic Sea and who then moved to Rome, a city that in his view was the seat of the church and of clerical life.
"Il Secolo XIX", 22 December 1976
Casanova is, perhaps, the best Fellini's film after Otto e mezzo, and probably the one that does not fall within fellinismo. It is certainly his most compact film (and it doesn't make much sense to discuss whether it was really necessary for the film to last two hours and 43 minutes), due to the wealth of Fellini' inventions, narrative, ability to balance horrible and loving aspects, ironic and fantastic traits, and his ability to switch from caricatures to visions. This has always been one of the peculiarities of his talent, but here – even with some repetitions – it is highly homogeneous, and is supported by the wonderful colour palette by Rotunno and an excellent score.
"Il Giorno", 11 December 1976
Casanova is not a novel that is meant to become a film, as it lacks logical progression or a real story links. The connections in-between the nine or ten chapters are quick and uncertain, and remind us of comics books' captions. Federico Fellini's great circus belongs to avant-garde art, as the American 'underground' filmmakers stated when Otto e mezzo was released. Despite the billions spent lavishly, we are not close to the "industrial art" described by Flaubert here, but we are rather closer to 'privatism' and Andy Warhol's impudence. Therefore, if we compare this film with Barry Lindon we find more differences than similarities in-between the films. Kubrick takes nineteenth-century novels and the 18th century setting, as well as the sociological and political traits of this story very seriously. He has apparently read and annotated the books of an entire library, and voices his moral opinion on that period and the main character. Fellini has skimmed through Histoire casanoviana as if it were a telephone directory, the phone list, but he apparently putting forward only his own impressions. However, if Kubrick's vision of the 18th century is based on deep cultural reasons, Fellini's dreams on the 18th century have the alarming and mysterious quality of a prophetic vision. Maybe Jung would have said Il Casanova is a prophecy on the past.
"La Repubblica", 11 December 1976
Il Casanova is rich, multifaceted, characterized by a variety of tones, perhaps it slows down sometimes, but we are bound to love it especially when its main character gets old and acquires a humanity that he had been denied before. That's how we feel involved.
"Il Resto del Carlino", 19 December 1976