Fellinia, Summer 2011 Project
The "Grande Macchina Fotografica" becomes the leading actor in the summer 2011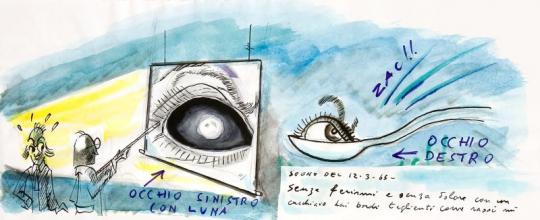 The "Grande Macchina Fotografica" has been a silent observer for over sixty years. It has been a sort of "ghost", as if it were part of a dream. It has Fellini's soul and body. It is as big as his women, it is present and absent at the same time. It belongs to the category of dreams: it is a large eye watching you and letting you watch it. FELLINIA will be Fellini's eye opening to the world every day; it'll be the city's eye watching the sea.
Starting from 24th June, with its official inauguration, FELLINIA will be the Fondazione Fellini's summer head office/front office: A strategic place aimed at providing information on the Fondazione's activities, and disclosing news on Fellini, the great film-maker. It will act as an information desk describing the Riviera's tourist activities, along with events and cultural activities offered by the city and its district during the summer. It'll be a lively venue for tourists and citizens to visit. During the summer FELLINIA will promote major events and will disclose the relevant information.
Thanks to the collaboration with the Consorzio Piccoli Alberghi di Qualità (Consortium of Small High-Quality Hotels) and the Consorzio dei Saperi (the Consortium of Knowledge), FELLINIA will be open every day from Mondays to Fridays from 9.30 a.m. to 1 p.m. and from 4 p.m. to 10 p.m. – on Saturdays and Sundays from 6 p.m. to 10 p.m.
FELLINIA_WORKSHOP
12/13/ - 19/20 - 26/27 August 2011
Every eye tells you a story - Workshop on self-portraits, curator Elena Givone. Photography is seen as an instrument capable of voicing feelings and emotions, a flat surface hosting sensations.