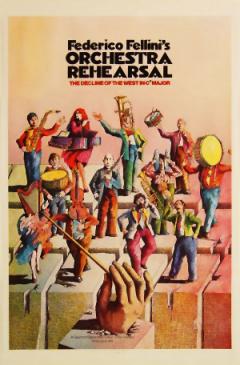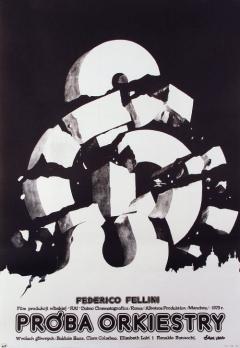 Orchestra Rehearsal
Production:
Daime Cinematografica S.p.A. e Rai - TV (Roma), Albatros Produktion G.M.B.H. (Monaco)
Word sales:
Gaumont - Italia
An orchestra assembles for a symphony concert rehearsal in a parish youth club ('oratorio'). Instrumentalists arrive in small groups and take their seats. Union shop stewards are there too, in a corner. A TV journalist interviews the musicians, and they all report talk about their instruments and their experience. When the conductor – who has a strong German accent - gets in, the rehearsal starts quietly; then, all of a sudden, it is discontinued because musicians start a demonstration. The conductor leaves the room and heads for his dressing room; the journalist follows him to interview him. In the meantime an uprising breaks out: everything is being criticized: the conductor, the scores, and so on. Anarchy and confusion prevail. Walls are covered with graffiti and symbols of the riot under way. The building suddenly starts shaking and is hit by increasingly stronger blows, until a huge steel ball crashes the walls and the harpist dies. There is a lot of confusion and people shout terrified. Then silence falls and the rehearsal is resumed. The conductor is back on the podium and gives orders, as if he were a dictator.
Crew
Director:
Federico Fellini
Screenplay:
Federico Fellini
Screenplay collaboration:
Brunello Rondi
Cinematography:
Giuseppe Rotunno (Technicolor)
Music consultant:
Carlo Savina
Musical director:
Carlo Savina
Production design:
Dante Ferretti
Set decorator:
Nazzareno Piana
Film editing:
Ruggero Mastroianni
Assistant editor:
Adriana Olasio
Special effects:
Adriano Pischiutta
Costume design:
Gabriella Pescucci
First assistant director:
Maurizio Mein
Second assistant director:
Christa Reeh, Giovanni Bentivoglio
Camera operator:
Gianni Fiore
Dialogue director:
Carlo Baccarini
General manager:
Lamberto Pippia
Producer (RAI):
Fabio Storelli
Cast
Baldwin Baas
: il direttore d'orchestra
Clara Colosimo
: l'arpista
Elisabeth Labi
: la pianista
Ronaldo Bonacchi
: il controfagotto
Ferdinando Villella
: il violoncello
Giovanni Javarone
: la tuba
David Mauhsell
: il primo violino
Francesco Aluigi
: il secondo violino
Sibyl Mostert
: la flautista
Franco Mazzieri
: la tromba
Daniele Pagani
: la tromba
Cesare Martignoni
: il clarinetto
Umberto Zuanelli
: il copista
Filippo Trincia
: il responsabile dell'orchestra
Claudio Ciocca
: il sindacalista
Angelica Hansen
: violino
Federico Fellini
: voce dell'intervistatore
Awards
Nastro d'argento per miglior musica
Peculiarites
"I didn't feel the urge to make this film. It didn't meet a personal need, but at a given point in time I felt I had to make it, namely when Italian M.P. Aldo Moro was killed. Yes, when I knew that Moro had been killed I was deeply impressed. Actually I had expected this would happen, but I analyzed this murder, to fully understand what had happened and why. What had the murderers in mind? What had happened to all of us, to all of us living in this country, I mean? Why had all of this happened? The film is not directly related to the murder – at least I didn't perceive it. I understood there was a connection much later, when film shootings had already finished, or rather when the film was shown. At first I didn't know why I felt the urge to make this film, and later I realized the underlying reason was Moro's murder".
Franca Faldini, Goffredo Fofi, Il cinema italiano d'oggi, 1970-1984. Raccontato dai suoi protagonisti, Mondadori, Milano, 1984, p. 258
Reviews
In less than 70 minutes, Fellini succeeds in combining entertainment, grotesque, nostalgia, truth, prophecy and anxiety in a very unusual combination. Every single minute of this dense discourse is fully utilized. The film is characterized by a dramatic and tender poetic force, and images are not slowed down (as on other occasions). Fellini is excellent in creating high quality 'fragments' and yet provide continuity.
"Il Tempo", 25 novembre 1978
This film is upsetting. You can interpret it in different ways, and every interpretation is equally true and contemporary. You cannot trace a hierarchy in the parable on the current Italian political chaos, the discussion on mass media role, the metaphysical analysis of man's function in society, his becoming, his rapport with Creation [...] Fellini is certainly discussing music here, and he is thus talking about art, Creation, and ways to go beyond ephemeral issues, death, triviality. Fellini tells us that mediocrity cannot be tolerated. However, this film is not simply a parable or an analysis. 'Prova d'orchestra' is an excruciating cry. It is partly an appeal and partly a stigmatization. In any case it is also implicitly nurtures hopes. Fellini has never stopped nurturing hopes, notwithstanding the painful and moving contradictions of the very last minutes of the film.
"Cinéma 79", n. 247-248, juillet-août 1979
From Block-notes to I clowns, Fellini's TV-based films are characterized by lightness and his ability to summarize concepts. His musicians' portrays confirm his long-standing expertise in caricature with a Gogol-oriented touch, while the conductor gives him the opportunity to hint at his autobiography as well as to paradoxically criticize himself (after delivering an inspired Jungian speech on the need to play one's own instrument well, he gives a set of orders in German). Fellini is a master in making a contradictory essay: the film is amusing and very sad, charming and angry at the same time.
Il Centofilm 2. Un anno di cinema 1978-1979, Il Formichiere, Milano, 1979
When the situation is really deteriorating the 'iron mallet' comes out, as a sign of a new order. Is it paving the way to Revolution, Restoration or Providence? No, it's simply a token of itself. When codes disappear an assumption is made, namely a return to a symbolic order, certainty and unity. Cinema goes back into television - along with the iron mallet - and brings in its special effects, smoke clouds, stage design, imaginary traits, strong emotions, whatever film-making can do and TV cannot do. It is a film 'for' TV, and the orchestra starts playing again.
"La Repubblica", 15 marzo 1979