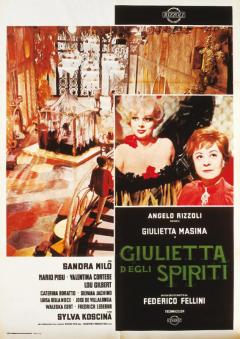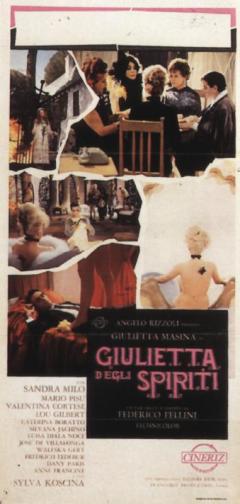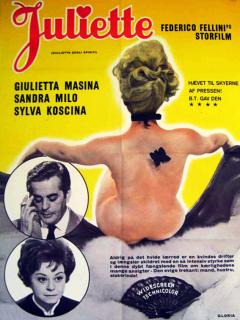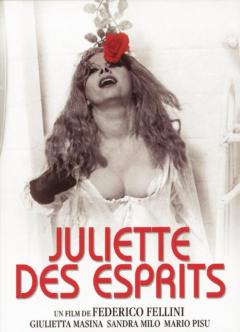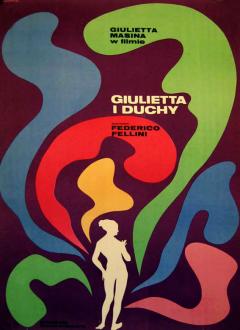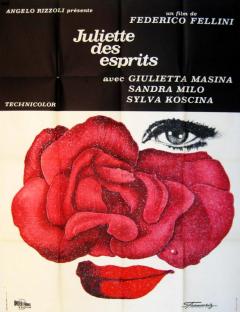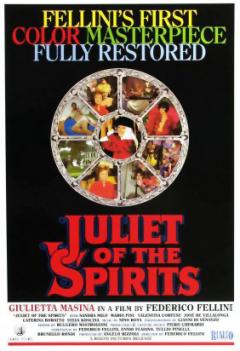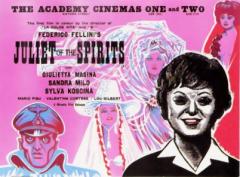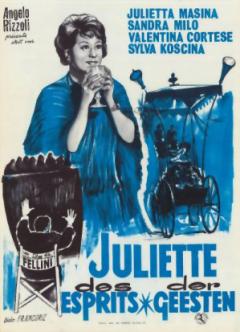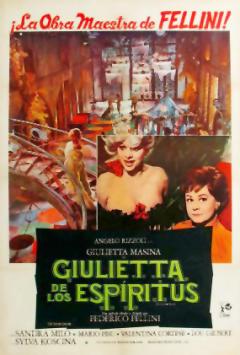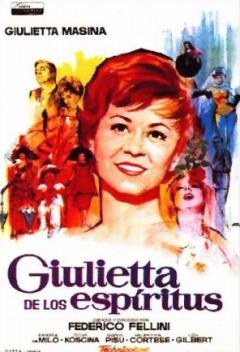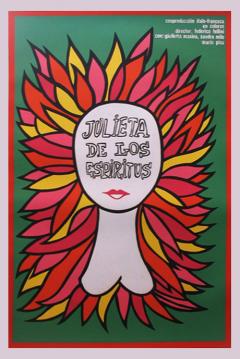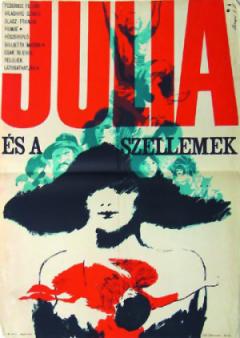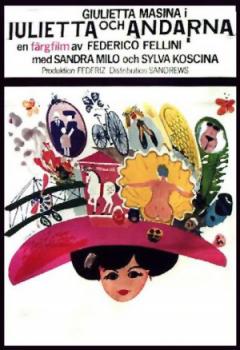 Juliet of the Spirits
Production:
Federiz (Roma), Francoriz (Paris)
Giulietta is a wealthy middle-class housewife living in Fregene (near Rome), who constantly fears her husband Giorgio is cheating on her. While she yearns for a peaceful intimate evening with him on the night of their 15th wedding anniversary, the egotistical Giorgio has forgotten about it and instead arrives home with his eccentric friends. They organize a séance, and Giulietta is haunted and offended by erotic and vulgar ghosts. She is obsessed with their statements and fears Giorgio's infidelity. She meets her neighbor Suzy, who invites her to her villa, and she talks freely to her, as she now has the evidence of her husband's infidelity. She feels guilty and leaves, bewildered. Thanks to a psychoanalyst, Juliet manage to fight against her ghosts and temptations. At the end – triumphant and wearing a white dress - she goes towards the strong wind blowing from the sea.
Crew
Director:
Federico Fellini
Story:
Federico Fellini, Tullio Pinelli, da un'idea di Federico Fellini
Screenplay:
Federico Fellini, Tullio Pinelli, Ennio Flaiano, Brunello Rondi
Cinematography:
Gianni Di Venanzo (Technicolor)
Camera operator:
Pasquale De Santis
Musical director:
Carlo Savina
Production design:
Piero Gherardi
Costume design:
Piero Gherardi
Assistant production designer:
Luciano Riccieri, E. Benazzi Taglietti, Giantito Burchiellaro
Wardrobe assistant:
Bruna Parmesan, Alda Marussig
Film editing:
Ruggero Mastroianni
Set decorator:
Vito Anzalone
First assistant director:
Francesco Aluigi, Liliana Berti, Rosalba Zavoli
Sound:
Mario Faraoni, Mario Morici
Script supervisor:
Eschilo Tarquini
Makeup artist:
Otello Fava, Eligio Trani
Hair Stylist:
Renata Magnanti, Marisa Fraticelli
Assistant editor:
Adriana Olasio
Production manager:
Mario Basili, Alessandro von Norman
General manager:
Clemente Fracassi
Production supervisor:
Walter Benelli
Production secretary:
Renato Fié, Ennio Onorati
Cast
Giulietta Masina
: Giulietta Boldrini
Mario Pisu
: Giorgio suo marito
Sandra Milo
: Susy, Iris, Fanny
Valentina Cortese
: Valentina
Caterina Boratto
: la madre di Giulietta
Lou Gilbert
: il nonno di Giulietta
Sylva Koscina
: Sylva sorella di Giulietta
Luisa della Noce
: Adele altra sorella di Giulietta
Josè De Vilallonga
: Josè il cavaliere romantico
Valeska Gert
: Nhishma la veggente
Silvana Jachino
: Dolores
Fred Williams
: principe arabo
Milena Vukotic
: domestica di Giulietta
Genius
: Genius il medium pederasta
Dany Paris
: l'amica disperata di Susy
Alberto Plebani
: il detective privato
Yvonne Casadei
: cameriera della corte di Susy
Mario Canocchia
: l'avvocato di famiglia
Cesarino Miceli Picardi
: amico di Giorgio
Felice Fulchignoni
: Dott. Raffaele
Lia Pistis
: amica della spiaggia
Alba Cancellieri
: Giulietta bambina
Awards
Silver Ribbon for Best Supporting Actress
Silver Ribbon for Best Cinematography, Color
Silver Ribbon for Best Production Design
Silver Ribbon for Best Costumes Design
Donatello David Award, Best Actor
Reviews
Paradoxically, it could be argued that Giulietta degli spiriti is a film to be 'skimmed through' rather than watched; the best way to enjoy it would be to cut it in to a thousand shots, and then examine them, one by one, as you do with an album [...] You may suspect that Fellini was affected and constrained by colours as well as by Juliet.
"L'Osservatore Politico Letterario", Milano, 12 December 1965
An almost plain story is turned into a phantasmagoric set of shapes, colours, characters' thoughts, memories, dreams and Fellini's dreams. It is a further display of his baroque imagination, his own use of colours and the ensuing amazing effects.
"La Stampa", 29 October 1965
The main elements of this film are: a hectic camera, relentless images combined with a unique domain of light, and colours. A cinema master directed this film. I don't only have Otto e mezzo in my mind, but also Citizen Kane by Welles and Marienbad by Resnais, that this film is very close to. Fellini moves freely in time and space, imagination and memory.
"Films and Filming", april 1966