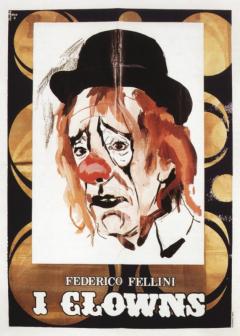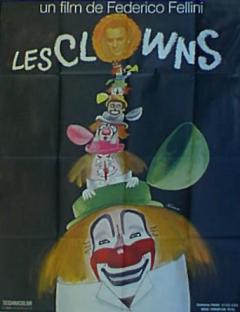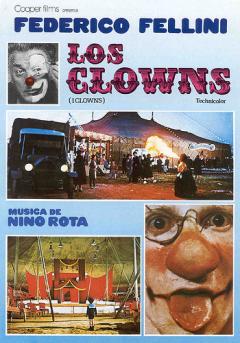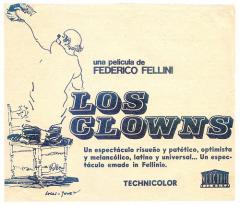 The Clowns
Production:
Rai - Radio Televisione Italiana (Italia) - O.R.T.F. (Francia) - Bavaria Film (R.F.T.) Compagnia Leone cinematografica
A circus tent is being installed and a child looks on curiously. Clowns remind him of some real-life characters, including an energetic dwarf, "Cotechino", the stationmaster, "Madonna", who's continuously quarrels with her colleagues, "Giudizie", who's going back to World War I…We then move on to the present day. A television investigation is under way, and Fellini is looking for old clowns and is willing to listening to them telling him their memories. After visiting the "Liana Orfei" circus, Fellini and his crew go to Paris, where they interview Tristan Remy, a writer dealing mainly with clowning history. Fellini helps the writer track old clowns, namely the few survivors of a no longer existing world. The Director shoots their aged and sad faces. He owes them the joy they were capable of giving their audience.
Crew
Director:
Federico Fellini
Story:
Federico Fellini, Bernardino Zapponi
Screenplay:
Federico Fellini, Bernardino Zapponi
Cinematography:
Dario Di Palma (Technicolor)
Camera operator:
Blasco Giurato
Musical director:
Carlo Savina
Costume design:
Danilo Donati
Film editing:
Ruggero Mastroianni
Assistant editor:
Adriana Olasio
First assistant director:
Maurizio Mein
Second assistant director:
Liliana Betti
Script supervisor:
Norma Giacchero
Makeup artist:
Rino Carboni
Special effects:
Adriano Pischiutta
Hair Stylist:
Paolo Franceschi
Production design:
Renzo Gronchi
Set decorator:
Renzo Gronchi
Mixage :
Alberto Bartolomei
Producer:
Elio Scardamaglia, Ugo Guerra
Production manager:
Lamberto Pippia
Cast
Rinaldo Orfei
: se stesso
Franco Migliorini
: se stesso
Lina Alberti
: membro della troupe
Alvaro Vitali
: membro della troupe
Gasparino
: membro della troupe
Père Loriot
: clown francese
Charlie Rivel
: clown francese
Victor Fratellini
: se stesso
Annie Fratellini
: se stessa
Baptiste Rémy
: se stesso
Tristani Rémy
: se stesso
Awards
Silver ribbon for Best Costume Design
Peculiarites
"When I say: 'the clown', I mean the August. There are in fact two figures: White and August clowns. The White clown personifies elegance, grace, harmony, intelligence, brightness - all traits that are described as ideal and unique traits. The White clown thus becomes the Mother, the Father, the Master, the Artist, the Handsome one - to sum up - 'what has to be done'. Consequently the August clown, who would be under the spell of these perfect traits, rebels. He sees shining 'sequins' on costumes, but their snootiness makes them unattainable. The August clown is the child who soils himself; he's the one who gets drunk, rolls on the ground and continuously raises objections. This is the fight between reason and instinct, reason and the freedom of instinct." The White clown and the August clown are the Primary School Teacher and the Child, the Mother and the Little Rogue. We may even say they are the Angel with a blazing sword and the Sinner."
Federico Fellini, Fare un film, Einaudi, Torino, 1980, p. 117
Reviews
There is a bit of everything in these Clowns: Anita Ekberg's feline appearances circus Orfei's cages, and the whole of Fellini's talent. The main elements of Fellini's creativeness are all there, his sweet and nasty traits, his modesty, his affection, his credulity and skepticism.
"Il Messaggero", 31 August 1970
The film's first part is charming. Here Fellini recalls his fascination for all people working in the circus and his being astonished by the deformed characters of the area he comes from.
"Corriere della Sera", 31 August 1970
After La dolce vita, Fellini was apparently totally free to voice his doubts and anxieties and resorted to desperate and iridescent images. In The clowns Fellini succeeded in prevailing over film production' constraints. He demonstrated he had nothing to lose, rather, he was able to accept and fulfill all the obligations arising from external needs and imperatives.
"Positif", n. 129, June-July 1971