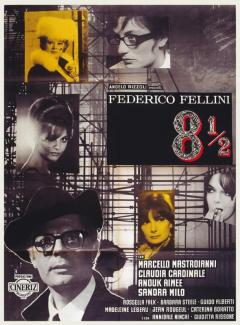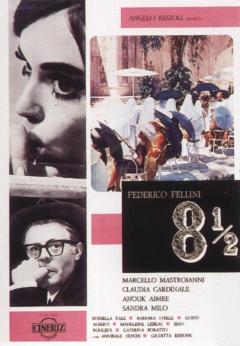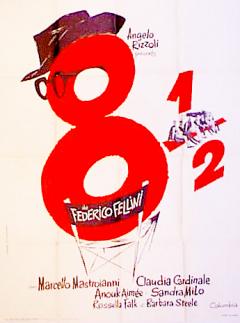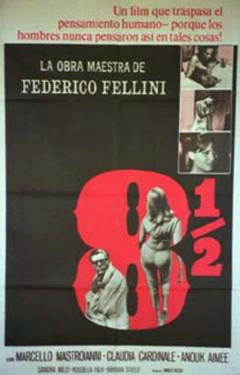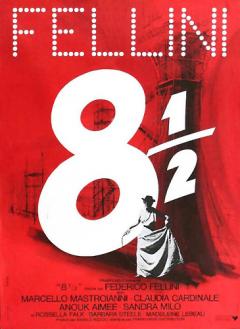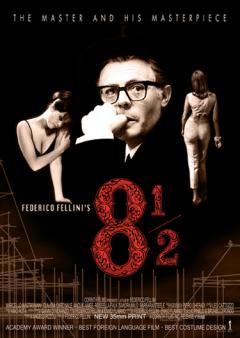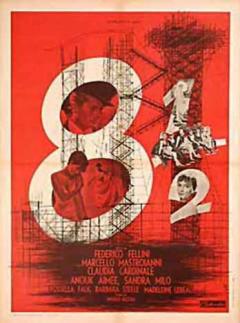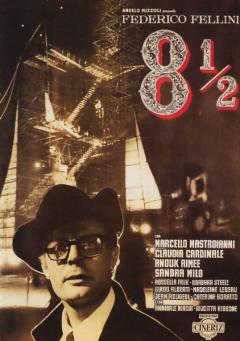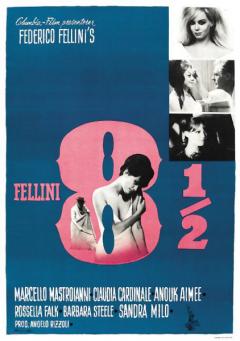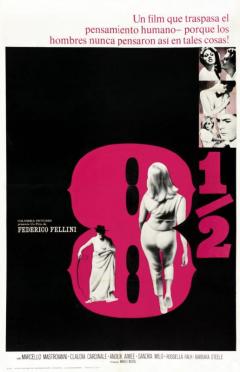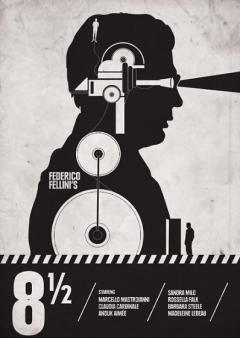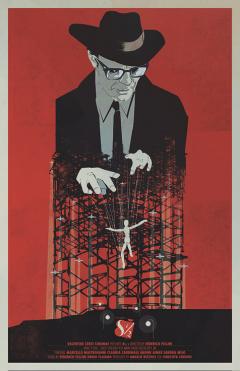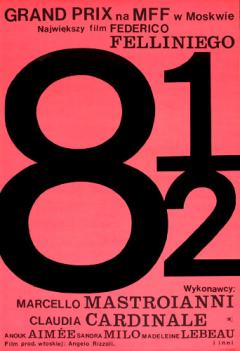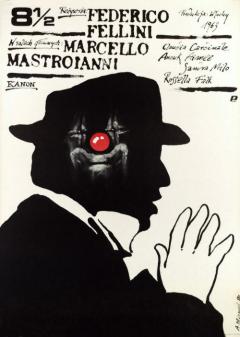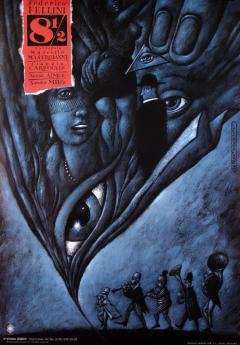 Federico Fellini's 8½
Production:
Cineriz (Roma) e Francinex (Paris)
Word sales:
Francinex (Paris)
Guido Anselmi, a famous Italian film director, is suffering from the "director's block". Despite Anselmi declaring that this movie should be an easy one to make, he is having problems with his artistic vision, and in particular he does not want to tell lies on the screen. He's blocked when shooting his new science fiction film, including some veiled autobiographical references, and he has lost interest amid artistic and marital difficulties. As Guido struggles half-heartedly to work on the film, a series of flashbacks and dreams delve into his memories and fantasies; they are frequently interwoven with reality. He is trying to relax in a spa after scoring success for his last film. He can't really have peace, however, as the people who have worked with him in the past are constantly asking for more work to do. He wrestles with his conscience, but is unable to come up with a new idea. While thinking, he starts to recall the major events of his life, and all the women he has loved and then abandoned. He's a lot of stress, both at professional and personal level. As he works through these problems in the spa, and he thinks over his childhood. Both at the spa and/or on a film set he's surrounded by many real people he'll portray on screen, including his wife Luisa – he loves her but he does not fully understand their marriage - his mistress Carla, the antithesis of Luisa, and an actress named Claudia who, in his opinion, will be his ultimate salvation.
Crew
Director:
Federico Fellini
Story:
Federico Fellini, Ennio Flaiano (ideato da Federico Fellini)
Screenplay:
Federico Fellini, Tullio Pinelli, Ennio Flaiano, Brunello Rondi
Cinematography:
Gianni Di Venanzo
Camera operator:
Pasquale De Santis
Production design:
Piero Gherardi
Costume design:
Piero Gherardi
Assistant production designer:
Luciano Riccieri, Vito Anzalone, Orietta Nasalli Rocca
Film editing:
Leo Catozzo
First assistant director:
Guidarino Guidi, Giulio Paradisi, Francesco Aluigi
Artistic advisor:
Brunello Rondi
Makeup artist:
Otello Fava
Hair Stylist:
Renata Magnanti
Still photographer:
Tazio Secchiaroli
Script supervisor:
Mirella Comacchio
Producer:
Federico Fellini, Angelo Rizzoli
Production manager:
Nello Meniconi
General manager:
Clemente Fracassi, Sandy von Norman
Production supervisor:
Mario Basili
Production secretary:
Albino Morandin
Cast
Marcello Mastroianni
: Guido Ansemi
Anouk Aimée
: Luisa la moglie di Guido
Claudia Cardinale
: Claudia
Guido Alberti
: Pace il produttore
Madeleine Lebeau
: l'attrice francese
Jean Rougeul
: l'intellettuale
Caterina Boratto
: la signora delle terme
Annibale Ninchi
: il padre di Guido
Giuditta Rissone
: la madre di Guido
Mario Conocchia
: direttore di produzione
Cesare Miceli Picardi
: ispettore di produzione
Tito Masini
: il cardinale
Jacqueline Bonbon
: Yvonne la soubrette
Jan Dallas
: Maurice il telepata
Georgia Simmons
: la nonna di Guido
Edy Vessel
: Edy indossatrice
Annie Gorassini
: l'amica di Pace
Rossella Como
: amica di Luisa
Gilda Dahlberg
: la moglie del giornalista americano
Olimpia Cavalli
: Olimpia
Hazel Rogers
: la negretta
Bruno Agostini
: segretario di produzione
Elisabetta Catalano
: sorella di Luisa
Sebastiano De Leandro
: un prete
Frazie Rippy
: il segretario laico del cardinale
Eva Gioia
: la ragazza dell'ispettore di produzione
Dina De Santis
: la ragazza dell'ispettore di produzione
Roby Nicolosi
: un medico delle terme
Awards
Academy Awards, Oscar for Best Costume Design, Black-and-White
Silver Ribbon for Best Director
Silver Ribbon for Best Producer
Silver Ribbon for Best Supporting Actress: Sandra Milo
Silver Ribbon for Best Original Story
Silver Ribbon for Best Screenplay
Silver Ribbon for Best Cinematography, B/W
Silver Ribbon for Best Music
Moscow International Film Festival Grand Prix, Nomination Oscar for Best Director
Moscow International Film Festival Grand Prix, Nomination Oscar for Best Original Stoory and Screenplay
Bodil Award (Copenaghen), Best European Film
Nomination Guild of America (Los Angeles), Career Oscar
Peculiarites
"I was shooting Marcello's profile but he has a double chin. Hence I put a plaster on this face and his double chin was all moved to one side of his face. He was very good to bear acting this long scene, namely the one with his father at the cemetery. [...] He was very patient with me and my crew. Make-up artists had prepared bags full of sand to alter his eyelids. I had told him he had to lose ten kilos. Then the hair stylist put white streaks in his air. Then, we had to change his hands: we made little hoods he had to wear to lengthen his fingers, but after a couple of shots the little hoods were blown away as if they were pencils. "
Rita Cirio, Il mestiere di regista, Garzanti, Milan, 1994, p. 36
Reviews
Otto e mezzo fully confirms - in case this needs any confirmation - that Federico Fellini is a master. Viewers are stunned by the film's inexhaustible and torrential cascades of images. Fellini turns everything into images with extraordinary simplicity and honesty.
"Letture", a. XVIII, n. 4, April 1963
Fellini's character Fellini is erotomaniac, sadist, a masochist, mythomaniac, afraid of leading his life, nostalgic of his mother's breasts, as well as a trickster and a cheater. A few of his traits remind us of Leopold Bloom, James Joyce's Ulysses hero, and Fellini has read and analyzed Joyce's works. The film is a monologue alternating some real events. Fellini describes a neurotic approach to impotence very clearly. [...] Fellini's dreams are always surprising and original. It is for this very reason the two childhood episodes set in the countryside of Romagna and the one showing his first meeting with a woman on the beach of Rimini, as an adolescent, are the best of the film and fall within the best episodes in Fellini's works.
"L'Espresso", 17 February 1963
'The beauty of the film lies in its confusion … a mixture of error and truth, reality and dream, stylistic and human values, in harmony between Fellini's film language and Guido's incoherent thoughts. It is impossible to distinguish Fellini from his fictional director. Consequently, Fellini's faults coincide with Guido's spiritual doubts. The osmosis between art and life is amazing. It will be difficult to repeat this achievement … Fellini's genius shines in every single detail in this film, and this is a rare event in film-making. There isn't a set, a character or a situation that doesn't have a precise meaning on the great stage of Otto e mezzo.
"Corriere della Sera", 16 February 1963
This film is a milestone in the history of the fictional film. La dolce vita - with its block-based structure - indicated a significant path both in film-making and literature. Otto e mezzo, however, moves forward towards experimentalism. In this film Fellini looks ahead, imagines the future, and analyzes the problems experienced in living, writing, and relating to the outside world.
"Il Giorno", 6 March 1963
Otto e mezzo is an amazing film. Fellini made here an effort to describe his own psychological attitudes and he thus made a dangerous and astonishing step forward. He had to invent a new, soft and flexible film language, and he succeeded. This is one of the most stimulating and interesting experiments made in the Italian film-making industry. He has been able to eliminate the boundaries existing between reality and dreams.
"Bianco e nero", a. XXIV, n. 4, Aprile 1963