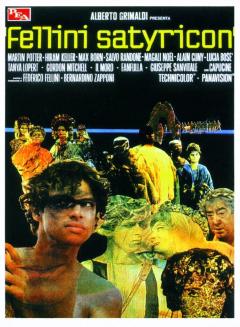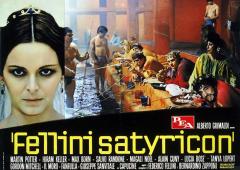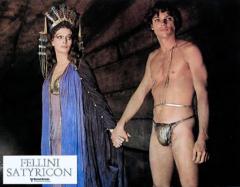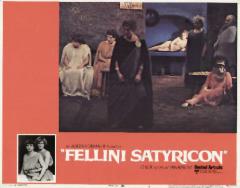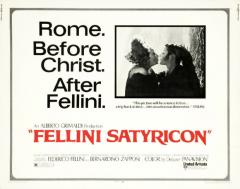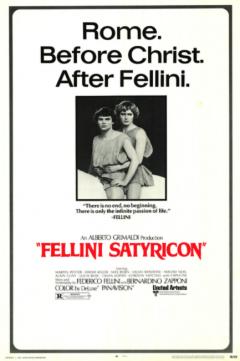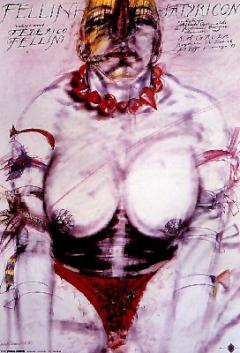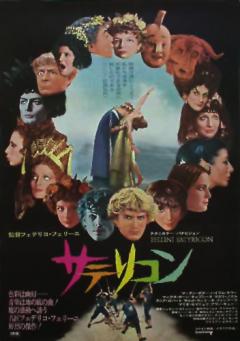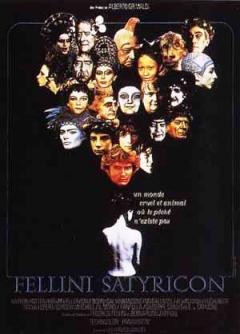 Fellini's Satyricon
Production:
P.E.A. (Roma), Les - Productions Artistes Associeés (Paris)
Word sales:
P.E.A. (Roma)
Two young men, Encolpius and Ascyltus, are in love with an effeminate boy named Giton. Ascyltus 'steals' Giton from Encolpius and sells him to Vernacchio, an actor of vulgar pantomimes. Encolpius manages to take Giton back, and they hid in a palace inhabited by depraved people. Giton - who is allowed to choose one of the two young men - prefers Ascyltus. Encolpius intends to commit suicide, but he's saved by an unexpected earthquake. Encolpius meets an old poet called Eumolpus, who takes him to the court of Trimalchio, a freed man, where a wild and decadent party is taking place. At the Villa, Eumolpus is heavily beaten, and Trimalchio takes his guests to the tomb where he will be buried. Encolpius is enslaved and meets Giton, and Asciltus on pirate Lichas' ship, a middle-aged merchant working for the Emperor. Giton is obliged to make sex with a young girl while Encolpius, after having been defeated by Lichas in a Greco-Roman wrestling match, marries her. We continue to follow Encolpius through a series of adventures: he becomes impotent and is cured by Enotea's Holy Fire, and then he's forced to fight against the Minotaur. When Ascyltus is murdered, Encolpius decides to board Eumolpus' ship, that is bound for North Africa. When Eumolpus dies Encolpius refuses to eat his corpse, and thus gives up the possibility of becoming his heir.
Crew
Director:
Federico Fellini
Story:
liberamente tratto da Petronio Arbitro
Screenplay:
Federico Fellini, Bernardino Zapponi
Cinematography:
Giuseppe Rotunno
Camera operator:
Giuseppe Maccari
Optical effects:
Joseph Natanzon
Music:
Nino Rota con la collaborazione di Ilhan Mimaroglu, Tod Docksader, Andrew Rudin
Production design idea:
Federico Fellini
Production design:
Danilo Donati, Luigi Scaccianoce
Costume design:
Danilo Donati
Set decorator:
Danilo Donati
Assistant production designer:
Dante Ferretti, Carlo Agate
Wardrobe assistant:
Franco Antonelli, Renzo Bronchi, Dafne Cirrocchi
Painting consultant:
Rino Scordia
Pictorial supervisor:
Italo Tomassi
Architecht:
Giorgio Giovannini
Film editing:
Ruggero Mastroianni
Assistant editor:
Adriana Olasio
Script supervisor:
Norma Giacchero
First assistant director:
Maurizio Mein
Second assistant director:
Liliana Betti, Lia Consalvo
Makeup artist:
Rino Carboni
Hair Stylist:
Luciano Vito
Consultant for Latin language:
Luca Canali
Still photographer:
Mimmo Cattarinich
Producer:
Alberto Grimaldi
Production manager:
Enzo Provenzale
Production supervisor:
Lamberto Pippia, Gilberto Scarpellini, Fernando Rossi
Production secretary:
Michele Pesce
Cast
Mario Romagnoli
: Trimalcione
Danika La Loggia
: Scintilla
Giuseppe Sanvitale
: Abinna
Genius
: liberto arricchito
Lucia Bosè
: la matrona suicida
Joseph Wheeler
: il suicida
Hylette Adolphe
: la schiavetta
Tanya Lopert
: l'imperatore
Gordon Mitchell
: il predone
Luigi Montefiori
: Minotauro
Marcello Di Falco
: proconsole
Elisa Mainardi
: Marianna
Carlo Giordana
: il capitano della nave
Pasquale Baldassarre
: l'ermafrodita
Lina Alberti
: l'idolo d'oro - parte tagliata al montaggio
Awards
Silver Silver Ribbon for Best Supporting Actor: Fanfulla
Silver Silver Ribbon for Best Cinematography, Color: Giuseppe Rotunno
Silver Silver Ribbon for Best Production Design: Danilo Donati and Luigi Scaccianoce
Silver Silver Ribbon for Best Costume Design: Danilo Donati
Academy Award Nomintaion for Best Direction
Peculiarites
'Petronious Satyricon is a mysterious text, first of all because it is fragmentary. But this fragmentary character symbolizes the very fragmentary nature of the Ancient World as we conceive it today. This is why the text and the world it represents are so fascinating. During the shootings I was faced with an unknown landscape, the fog was so thick that only for few seconds it dissolved and allowed me to see the landscape. The Ancient World is to me like a lost and unknown world. The only way I can approach it is through creativity and imagination, without resorting to any historical background or information'.
Federico Fellini, Un regista a Cinecittà, Mondadori, Milan, 1988, p. 127
Reviews
Fellini's Rome bears no relation to the Rome we learned about in school books, and it touches upon a special topic, namely two-wheeled chariots. It is not set in history, but rather in a part of the unconscious where the episodes reported by Petronius are included among Fellini's ghosts (…) His Satyricon is a journey through fairytales for adults. It is evident that Fellini – as he finds out that these ancient characters share his own human and artistic doubts - wonders if man's universal and eternal condition does not lead to the awareness of the transience of life.
Corriere della Sera, 5 September 1969
Fellini defined Satyricon as "a science fiction essay on the past", as if the Romans of that decadent age were being observed by flying saucers' astonished inhabitants. Curiously enough, in this effort of objectivity, the director has created a film that is very subjective, and requires a psychoanalytic approach to be analyzed. It is pointless to debate whether the film proposes a plausible interpretation of ancient Rome, or whether it resembles Petronius' descriptions. The least surprising parts are those that come closest to Petronius's text or that have some vague historical significance." The author's creativity is fully developed in the visit of "Suburra", in Alan Cluny's grotesque wedding where he is dressed as a woman, in the final struggle with the fake Minotaur. It is almost always a claustrophobic, nocturnal and unhealthy atmosphere.
"Panorama", 18 September 1969
Satyricon is an extraordinary effort of translating something mysterious and unknown into symbolically powerful images. It is like a long dream full of adventures where he episodes differ in terms of quality and taste. Fellini, in any case, discovered Ancient Rome in a very original way, far from banalities and clichés. Satyricon does include monsters and shivering, and death dimension is always present. Death is probably the very theme linking all the different film episodes.
"Oggi", 17 September 1969