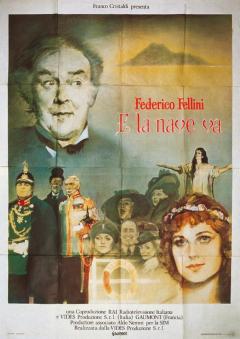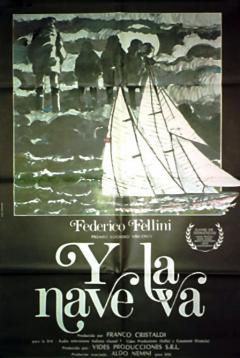 And the Ship Sails On
Production:
RAI Radiotelevisione e Vides Produzione (Italia), Gaumont (Francia). Teatro di posa: Cinecittà
The film opens with the liner "Gloria N." ready to sail from Naples Harbor in July 1914. Orlando, an Italian journalist, tells viewers that the cruise is a funeral voyage to scatter opera singer Edmea Tetua's ashes near the island of Erimo, her birthplace. Tetua – who is considered the greatest singer of all times - is celebrated for her goddess-like voice. The bumbling but lovable journalist entertains the passengers, who are mostly opera singers, conductors and Edmea's fans. A jealous and bitter soprano named Ildebranda desperately tries to penetrate the secret behind Edmea Tetua's unforgettable voice. An awful stench rises from the ship's hold and soon it turns out that a love-sick rhino has been neglected by the ship's crew. The beast is pulled up, washed on deck, and returned to the hold with fresh water and hay. Then the passengers discover a crowd of shipwrecked Serbians camped on the deck of the ship. Fleeing in rafts after the Sarajevo assassination, the refugees were taken on board by the captain the previous night. Edmea Tetua's ashes are scattered near Erimo and the refugees board a lifeboat after the ceremony. A young Serb hurls a bomb at an Austro-Hungarian ship. The Austrian soldiers bombard the "Gloria N." ship, that sinks while the Austro-Hungarian ship explodes and sinks. Orlando is on board a lifeboat while the rhino ruminates happily.
Crew
Director:
Federico Fellini
Story:
Federico Fellini, Tonino Guerra
Screenplay:
Federico Fellini, Tonino Guerra
Text for Opera singers:
Andrea Zanzotto
Cinematography:
Giuseppe Rotunno (Technicolor)
Camera operator:
Gianni Fiore
Assistant camera:
Gian Maria Majorana, Luigi Bernardini
Music:
Gianfranco Plenizio (diretta dall'autore)
Orchestre et choeur:
RAI Radiotelevisione italiana
Choirmaster:
Ines Meisters
Associate conductor:
Elvio Monti
Production design:
Dante Ferretti
Costume design:
Maurizio Millenotti
Assistant costume designer:
Barbara Mastroianni
Choreography:
Leonetta Bentivoglio
Architecht:
Nazzareno Piana, Massimo Razzi
Set decorator:
Massimo Tavazzi, Francesco Lo Schiavo
Paintings and frescoes:
Rinaldo Geleng, Giuliano Geleng
Pittore scenografo:
Italo Tomassi
Sculptures:
Giovanni Gianese
Effects:
Adriano Pischiutta
Film editing:
Ruggero Mastroianni
Assistant editor:
Adriana Olasio, Leda Bellini, Rosanna Landi
First assistant director:
Giovanni Arduino
Second assistant director:
Andrea De Carlo
Script supervisor:
Norma Giacchero
Production manager:
Lucio Orlandini
Screenplay:
Catherine Breillat (troupe francese)
First assistant director:
Terry Nahon (troupe francese)
Production manager:
George Dybman (troupe francese)
Production supervisor:
Willy Rahau (troupe francese)
Adattamento dei dialoghi italiani:
Roberto De Leonardis
Cast
Barbara Jefford
: Ildebranda Cuffari cantante
Vittorio Poletti
: Aureliano Fuciletto cantante
Peter Cellier
: Sir Reginald Dongwy
Elisa Mainardi
: Teresa Valegnani cantante
Norma West
: Lady Violet Dongwy
Paolo Paoloni
: il maestro Albertini
Sara Jane Varley
: Dorotea
Fiorenzo Serra
: il granduca di Harzock
Pina Bausch
: la principessa Lherimia
Pasquale Zito
: il conte di Bassano
Janet Suzman
: Edmea Tetua
Linda Polan
: Ines Ruffo Saltini
Philip Loche
: Primo ministro
Maurice Barrier
: Ziloev cantante
Fred Williams
: Sebastiano Lepori cantante
Elizabeth Kaza
: produttrice
Mara Zampieri
: Ildebranda Cuffari cantante
Elizabet Norberg Schulxz
: Ines Ruffo Saltini cantante
Nucci Condò
: Teresa Valegnani cantante
Giovanni Bavaglio
: Aureliano Fuciletto cantante
Carlo Di Giacomo
: Sebastiano Lepori cantante
Boris Carmeli
: Ziloev cantante
Bernadette Lucarfini
: Secondo soprano serbo cantante
Bruno Beccaria
: Tenore serbo cantante
Awards
Nastro d'argento for Best Director: Federico Fellini
Nastro d'argento for Best Cinematography: Giuseppe Rotunno
Nastro d'argento for Best Production Design: Dante Ferretti
Nastro d'argento for Best Costume Design: Maurizio Millenotti
Nastro d'argento for Best Special Effects: Dante Ferretti
David di Donatello Award: Best Screenplay: Federico Fellini e Tonino Guerra
David di Donatello Award: Best Film: Federico Fellini e Tonino Guerra
David di Donatello per miglior fotografia
David di Donatello per miglior scenografia
David di Donatello Award: David Luchino Visconti Career Award : Federico Fellini
Sant Jordi Award for Best Foreign Film
Peculiarites
"I would like to have billboards placed on the cinema doors with the following wording: 'There is nothing more than what you'll see'. Or: ' Don't make any efforts to see what is behind, or you'll run the risk of not being able to see what is in front of you'. [...] The film is about a trip by ship to scatter the ashes of a famous singer of the Twenties. Some friends told me that is a terrible film, which has something threatening, while I believe instead it contains a sort of hidden joy. [...] In E la nave va I showed [...] the bewilderment pervading us more or less honestly, more or less artificially. Fearing the worst is a mood or a forewarning we have experienced for a long time and that apparently is not going to leave us. [...] I do not think that the rhino on board the "Gloria N." liner has nothing to do with the monster appearing on the beach at the end of Dolce vita. A symbol is something you can't explain, as it goes beyond reason, as it contains irrational or mythical elements. Why am I forced to explain it? In any case, the rhino on the ship – in case it is has a meaning – has exactly the opposite meaning. The monster in La Dolce Vita mirrored the protagonist's decay, while the rhino in E la nave va may be interpreted as follows: the only attempt we can make to prevent disaster may be retrieving the unconscious, our deep and healthy dimension. It is in this sense that we could explain the phrase "being fed by the rhino's milk ". But it is always an awkward explanation, as it is odd to match the rhino and the monster of La dolce vita. Fantasy, if authentic, encompasses everything, and needs no explanations ".
Fellini. Raccontando di me, conversazioni con Costanzo Costantini, Editori Riuniti, Rome, 1996, pp. 182-185
Reviews
The sea is fake, the battleship is a silhouette, the entire film was shot in the studio. Why, then, has the public appreciated the film? I replied to this question as follows: viewers perceive said images as if they were part of a dream. As we never choose a dream in our lives, but it is rather the dream that chooses us, as Callois said, also in E la nave va a dream comes in and knocks at our doors (…) the film is sometimes alarming and worrying, but is also funny and cheerful, pervaded by a quiet and cautious love for life. E la nave va stands out among Fellini's films, as it looks like the first phase of Fellini's old age. This diversity is perceived also in his attitude towards the characters filling the ship, including the mysterious Princess Pina Bausch. Fellini does not resort to his customary caricatures, playful mockeries or monstrous visions. Here he focuses on affection, critical detachment from these characters and respect for them.
"Il Giorno", 7 October 1983
This movie can be described as a set of drawers with a lot of secret drawers, double bottoms and surprises. Even a child can easily understand E la nave va, as it offers a great variety of suggestions and meanings. It is first of all essential to watch this film because it is beautiful and rich in life and colors. Let me give you food for thought: if we consider Fellini's contradictions – he's always been against any kind of "engagement" – the one concerning his inability to avoid participating in today's events crops up. Moreover, he could not avoid the temptation of the "guru" who, after being so requested, voices his opinion and gives a suggestion enabling others to live: the image of Orlando being on the same boat as the rhino resembles that of Ishmael pulling Moby Dick out of the sea and onto the wreck. The Witness and the Monster, Intelligence and Nature as a whole, they are all together on the last thing that still floats after all large ships sank, and they are tied forever.
"La Repubblica", 7 October 1983
If E la nave va was meant to be a great show it actually is a great show, and it thus confirmsFellini's great creativeness . He is so young that he can update his film language with no apparent strain or trouble, by simply following a biological and imaginative rhythm, passing from exuberant and grotesque characters s to a solar and lively approach with the characters symbolizing his visions. The amazing prologue contains the key element of the film, with the arrival of passengers embarking on the ship "Glory N". It was shot as a Pathé newsreel, with uncoordinated movements, veiled ladies, moustached knights moving forward in a funeral procession with the urn containing famous opera singer Edmea Tetua's ashes that will be scattered on a Mediterranean island at the end of the cruise. Sounds are emerging gradually, while colours crop up and pass from sepia to black-and-white shades.
"Il Giornale", 7 October 1983