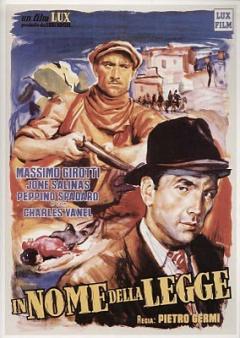 In the Name of the Law
Production:
Luigi Rovere per Lux Film
Word sales:
Lux Film (1949)
Federico Fellini collabora alla sceneggiatura.
Un giovane pretore giunge in un paese della Sicilia deciso a combattere con tutti i mezzi la mafia. Osteggiato dagli abitanti - solo un ragazzo, Paolino, gli diventa amico - egli non demorde neppure quando si rende conto che l'omertà della popolazione (di fronte ad un omicidio) rende impossibile il suo lavoro. Quando, poi, finisce per scontrarsi con un notabile del luogo che si rifiuta di riaprire una zolfatara che darebbe lavoro a molti e viene ferito, il pretore decide di andarsene. La morte violenta di Paolino gli fa cambiare idea.
Crew
Story:
Giuseppe Mangione (dal romanzo "Piccola Pretura di G. G. Lo Schiavo)
Screenplay:
Mario Monicelli, Federico Fellini, Tullio Pinelli, Giuseppe Mangione, Pietro Germi
Cinematography:
Leonida Barboni
Musical director:
Ugo Giacomozzi
Film editing:
Rolando Benedetti
Production design:
Gino Morici
Production manager:
Antonio Musu, Maggiorino Canonica
First assistant director:
Enzo Provenzale
Second assistant director:
Salvatore Rosso, Argi Rovelli
Production supervisor:
Rosario Capaci, Sergio Barbonese
Camera operator:
Gianni Villa
Makeup artist:
Anacleto Giustini
Cast
Massimo Girotti
: il pretore Guido Schiavi
Jone Salinas
: la baronessa Teresa Lo Vasto
Charles Vanel
: il massaro Turi Passalacqua
Camillo Mastrocinque
: il barone Lo Vasto
Saro Urzì
: il maresciallo dei carabinieri
Turi Pandolfini
: don Fifì
Peppino Spadaro
: avv. Faraglia
Ignazio Balsamo
: Ciccio Messana
Saro Arcidiacono
: il cancelliere
Nanda De Santis
: Lorenzina
Nadia Niver
: Vastianedda
Bernardo Indelicato
: Paolino
Piero Sabella
: Gallinella