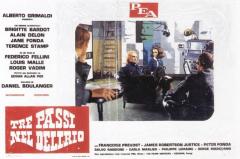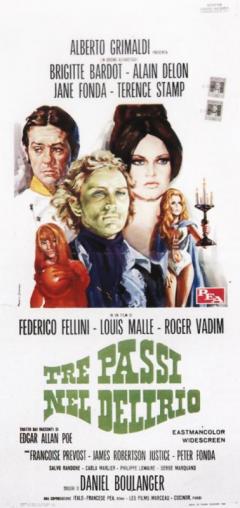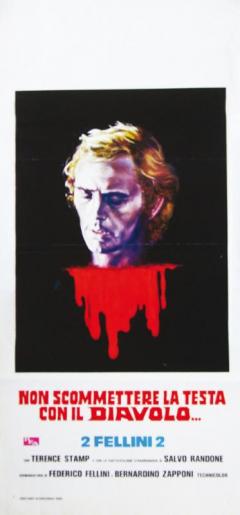 Spirits of the Dead (segment "Toby Dammit")
Production:
P.E.A. (Roma), Les Films Marceau (Paris), Cocinor (Paris)
Word sales:
P.E.A. (Roma)
Toby Dammi, a former Shakespearean actor, and a drug-addict and an alcoholic at present, is in Rome. He's going to be the main character of the first Catholic western film. After helping a young girl who has lost the ball she was playing with, Dammit starts having visions of the girl and her ball. After being given a Ferrari by the film producer Dammit drives his new car very fast. Some workers try to stop Dammit close to a fallen bridge across a ravine, but he speeds ahead. When his car reaches the other side, Dammit's head has been cut off by a cable running across the ravine. The young girl appears again, she picks Toby Dammit's head up, as if it were a ball …
Crew
Director:
Federico Fellini
Story:
libera riduzione dal racconto "Non scommettere la testa con il diavolo" di Edgard Allan Poe
Screenplay:
Federico Fellini, Bernardino Zapponi
Cinematography:
Giuseppe Rotunno (Technicolor-Eastmancolor)
Production design:
Pietro Tosi
Costume design:
Pietro Tosi
Film editing:
Ruggero Mastroianni
Camera operator:
Giuseppe Maccari
Special effects:
Joseph Natanzon
Songs:
"Ruby" di Mitchell Parish (parole) e Heinz Roemheld (musica)
Set decorator:
Carlo Leva
Second assistant director:
Eschilo Tarquini, Francesco Aluigi, Liliana Betti
Assistant editor:
Adriana Olasio, Wanda Olasio
Production manager:
Tommaso Sagone
General manager:
Enzo Provenzale
Producer:
Alberto Grimaldi, Raymond Eger
Cast
Terence Stamp
: Toby Dammit
Salvo Randone
: Padre Spagna
Antonia Pietrosi
: l'attrice
Polidor
: un vecchio attore
Anne Tonietti
: commentatrice televisiva
Fabrizio Angeli
: primo regista
Ernesto Colli
: il secondo regista
Aleardo Ward
: primo intervistatore
Paul Cooper
: il secondo intervistatore
Marisa Traversi
: partecipanti alla festa
Rick Boyd
: partecipanti alla festa
Mimmo Poli
: partecipanti alla festa
Brigitte
: la ragazza alta due metri
Reviews
Toby Dammit's story is quite weak. It is characterized by memories, nostalgia, Fellini's beloved mirages, unreal actresses, and a weak Polidor. This film is focused on technique and how to go beyond them. Otto e mezzo's fogs and Giulietta's colours are replaced by lights problems. Rotunno solves them all: projectors, light bulbs, car headlights. Techniques, set decoration and lighting prevail. There is a formal showing-off and a technical virtuosity that are sometimes an end in themselves.
"Bianco e Nero", a. XXIX, n. 11-12, November-December1968
Fellini views reality through his characters' eyes: he is alternatively a priest, a Catholic writer, a cruel reporter (when he mocks Totò), a blind comedian with a huge blond and eccentric actress. Fellini-Poe's Rome welcomes all these elements as if they were surrounded by smoke or taken from a nightmare (…).
"Filmcritica", a. XIX, n. 193, December 1968