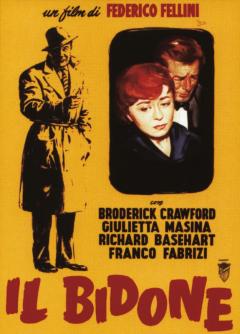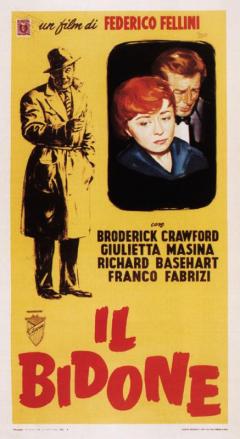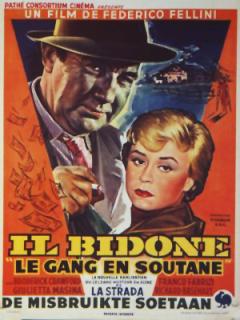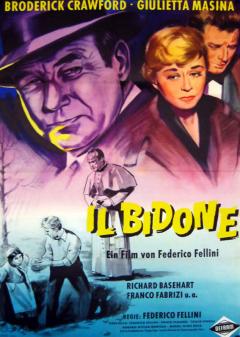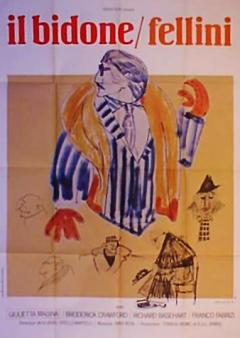 The Swindle
Production:
Titanus (Roma), S.G.C. (Paris)
Roberto, Picasso and August are 'professional swindlers'. They dress up as priests and cheat peasantsì, then they pretend to be government officers and swindle people living in emergency housing while promising them they'll be assigned a house, and sell old coats to un-experienced filling station attendants telling them they are new . The three friends attend a New Year's Eve party together, when Iris, Picasso's wife, finds out what kind of business her husband is actually in. Augusto's daughter is not aware of her father's job either. One day, when she is at the cinema with her father, she finds out the truth, because one of Augusto's victims recognizes and attacks him. Augusto is arrested in front of his daughter. As soon as he gets out of prison he joins the gang and dresses up as a cardinal to cheat people again, but this time the victim's daughter is paralytic and the money they received would have been used to support her. Augusto feels remorse and intends to give the money back. Later he changes his mind and tries to cheat the other swindlers, there is a fight and Augusto tries to escape; he falls into a gully and breaks his spine. The other members of the gang don't help him, they take the money and run away. Augusto dies after much suffering.
Crew
Director:
Federico Fellini
Story:
Federico Fellini, Ennio Flaiano, Tullio Pinelli (da un'idea di Federico Fellini)
Screenplay:
Federico Fellini, Ennio Flaiano, Tullio Pinelli
Cinematography:
Otello Martelli
Camera operator:
Roberto Gerardi
Assistant camera:
Arturo Zavattini
Musical director:
Franco Ferrara
Production design:
Dario Cecchi
Costume design:
Dario Cecchi
Film editing:
Mario Serandrei, Giuseppe Vari
First assistant director:
Moraldo Rossi, Narciso Vicario
Second assistant director:
Dominique Delouche, Paolo Nuzzi
Artistic advisor:
Brunello Rondi
Makeup artist:
Eligio Trani
Hair stylist:
Fiamma Rocchetti
Set decorator:
Massimiliano Capriccioli
Still photographer:
G. B. Poletto
Script supervisor:
Nada Delle Piane
Production manager:
Giuseppe Colizzi
Production supervisor:
Antonio Negri
Production secretary:
Manolo Bolognini
Segretario amministrativo:
Ezio Rodi
Cast
Broderick Crawford
: Augusto
Richard Baserhart
: Picasso
Giulietta Masina
: Iris, la moglie di Picasso
Giacomo Gabrielli
: Baron "Vargas"
Alberto De Amicis
: Rinaldo
Sue Ellen Blake
: Susanna
Lorella De Luca
: Patrizia, la figlia di Augusto
Mara Werlen
: Maggie, la danseuse
Mario Passante
: un truffatore
Xenia Walderi
: Luciana, la compagna di Rinaldo
Maria Zanoli
: Stella Fiorina, contadina truffata
Sara Simoni
: seconda contadina truffata
Cristina Pall
: la proprietaria del portasigarette d'oro
Tiziano Cortini
: il biondo del cinema
Riccardo Garrone
: Riccardo, un bidonista
Ada Colangeli
: signora Bove, bidonata case popolari
Amedeo Trilli
: Luigi Fiorelli, bidonato case popolari
Ettore Bevilacqua
: bidonato case popolari
Alberto Plebani
: l'uomo del bidone dell'orologio
Reviews
Basically, let's be clear, what amazes us in Fellini's work is his ability to encompass the Heaven and the Earth in a single glance. I think of his Platonism, that is un-capable of forgetting his loved ones, his memories, the battles fought together, the unjustified suffering of simple good-willed individuals. Even in Il Bidone, Fellini's main characters are strong and powerful: the three swindlers and the other characters's lives are intense. It is equally true that the apparently humble people who have been cheated do suffer ("Picasso"'s wife, Augustus' daughter, the young paralytic) are clearly relevant, even though they are appear on stage for a limited period of time.
"Maestri del cinema", Garzanti, Milan, 1972
Once again, in case we intend to find Fellini's stylistic and spiritual bond with a previous artist, we should name Kafka. The old swindler's path follows Kafka's route of trial and conviction in a cruel and objective world, among tired and indifferent men. We shouldn't be surprised if Il bidone bothers dogmatists and cannot be defined by them.
"Sipario", a. X, n. 115, November 1955
Il Bidone starts badly and ends solemnly. If screened at a film festival, this explosive mixture can upset viewers who enter a cinema and willing to leave the it as soon as possible. I was not in a hurry instead, and I would have watched Broderick Crawford die for hours.
"Cahiers du Cinéma", n. 51, October 1955
warning: Cannot modify header information - headers already sent by (output started at /home/fellini/domains/federicofellini.it/public_html/includes/database.mysqli.inc:134) in /home/fellini/domains/federicofellini.it/public_html/includes/common.inc on line 153.