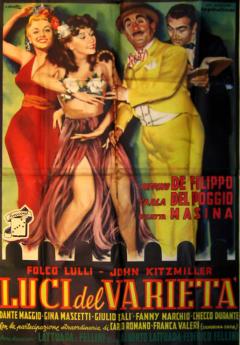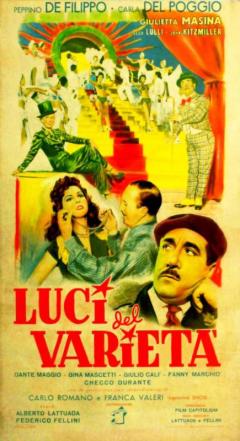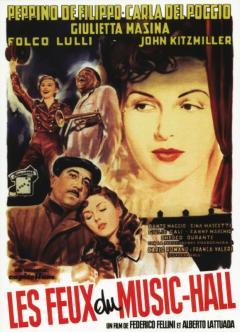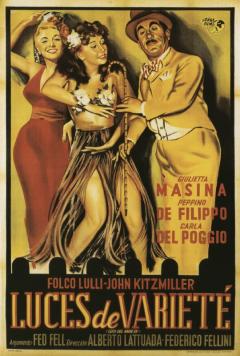 Variety Lights
Production:
Capitolium Film
Luci del Varietà is about a bunch of misfits of a traveling vaudeville troupe. The group of actors, dancers, and performers struggle to make money and perform in front of just a few people. Their director, Checco Dal Monte, wants to be successful. His longtime sweetheart, Melina Amour, saves up money and plans to start a business. They arrive in a small town to stage another show, and Checco meets beauty queen Lily; he hires her as a dancer. Her sex appeal attracts large crowds of enthusiastic spectators, and she quickly becomes the star of the show. Checco falls in love with Lily and neglects Melina. The loyal group of performers are left without a leader, while Lily proves to be stubborn in her quest for fame. Lily signs a contract with another impresario and leaves him. After Melina's has forgiven him, Checco and the whole company start travelling again. On the train he meets a nice-looking woman … and the whole story starts again.
Crew
Director:
Alberto Lattuada, Federico Fellini
Screenplay:
Federico Fellini, Alberto Lattuada, Tullio Pinelli con la collaborazione di Ennio Flaiano
Cinematography:
Otello Martelli
Camera operator:
Luciano Trasatti
Still photographer:
Osvaldo Civirani
Musical director:
Franco Ferrara
Production design:
Aldo Buzzi
Costume design:
Aldo Buzzi
Set decorator:
Luigi Gervasi
Film editing:
Mario Bonotti
First assistant director:
Angelo D'Alessandro
Production manager:
Bianca Lattuada, Federico Fellini
Cast
Carla del Poggio
: Liliana "Lilly" Antonelli
Peppino De Filippo
: Checco Dalmonte
Giulietta Masina
: Melina Amour
Folco Lulli
: Adelmo Conti
Franca Valeri
: la coreografa ungherese
Carlo Romano
: Avv. Enzo La Rosa
Silvio Bagolini
: Bruno Antonini il giornalista
Dante Maggio
: Remo il capocomico
Alberto Bonucci
: personaggio del duo teatrale
Vittorio Caprioli
: personaggio del duo teatrale
Mario De Angelis
: maestro
Checco Durante
: il proprietario del teatro
Renato Malavasi
: albergatore
Fanny Marchiò
: una soubrette
Gina Mascetti
: Valeria Del Sole
Vania Orico
: Gypsy Singer
Enrico Piergentili
: il padre di Melina
Alberto Lattuada
: inserviente teatrale
Sofia Lazzaro [Sophia Loren]
: ballerina
Giovanna Ralli
: ballerina
Awards
Silver Ribbon Best Supporting Actress
Peculiarites
In early 1950s newspapers discuss this "wives and husbands' cooperative," that is to say the collaboration between the two directors and their respective wifes, namely actresses Carla Del Poggio and Giulietta Masina. Bianca, Lattuada's sister, a great organizer, helps them and Lattuada's father is the author of the score.
Tullio Kezich, Fellini, Milano, Camunia, 1987, p. 166
Reviews
One of the qualities of Luci del varietà (directed by Lattuada and Fellini) seems to be the indifference, on the part of the authors, towards tragedies. At the end, when the girl, the main character, is almost naked on stage, sends kisses to the audience and says: "thank you", she has tears in her eyes, as she understand they are clapping her body and not her performance. Said praises are cruel in a way and lead to a set of comments on the concepts of art and success. It is a sort of antinovel, rather than a satirical film. There is no hope for a happy ending, and characters are never moved, because their prevailing feeling is vanity.
"Il mondo", a III, n. 18, 5 May 1951, ora in Lettere d'amore al cinema, Rizzoli, Milano, 1981
Luci del varietà is inspired by the world of vaudeville and reports on the lives of comedians, soubrettes, and the whole crew of people performing on stage with intelligence and humor.
"Il Lavoro Nuovo", 7 December 1950
Some shots (when comedians are attending a banquet, for instance) confirm the directors' sharp and humorous imagination. The whole movie is tasty and enjoyable but its characters, unfortunately, are not very original.
"Corriere della Sera", 13 January 1951
We can find all Fellini myths here, in a sort of anticipation of his future works: the characters' loneliness and their ridiculous conditions are set in an unusual atmosphere, where the main elements are 'show business' and mobility. The Baroque style expands in the little provincial theatre where Clara is acting. (…) The underlying idea is dissolving individual problems in the crowd and in a sort of motion frenzy, and then isolating them gradually.
"Le chemins de Fellini", Editions du Cerf, Paris, 1956