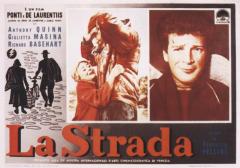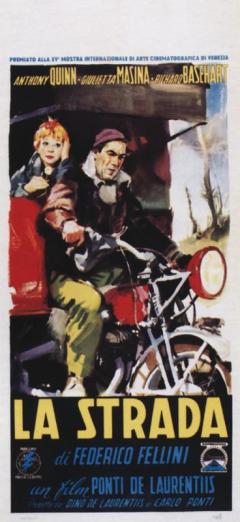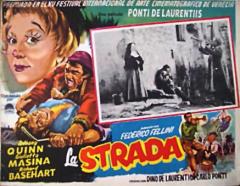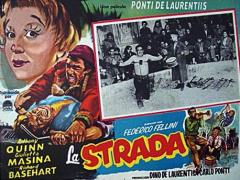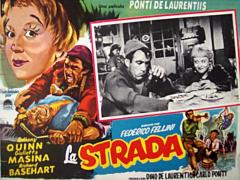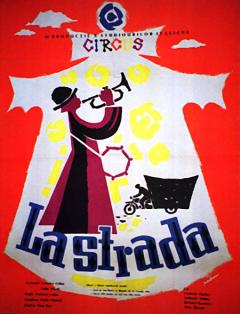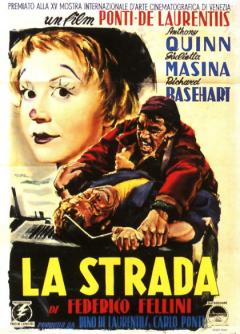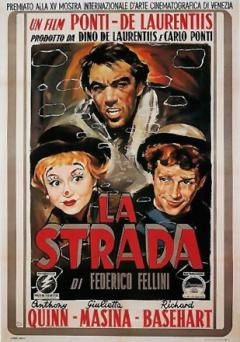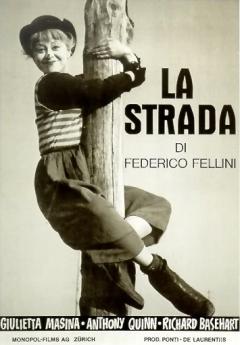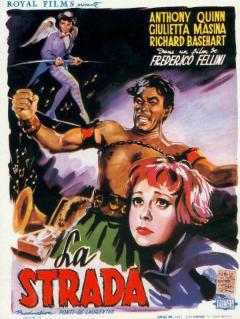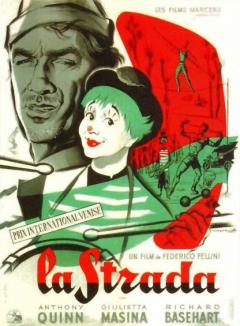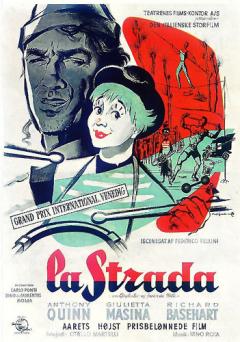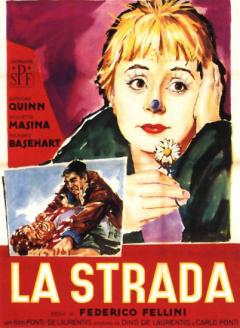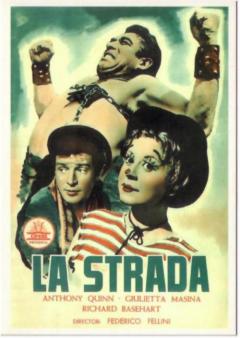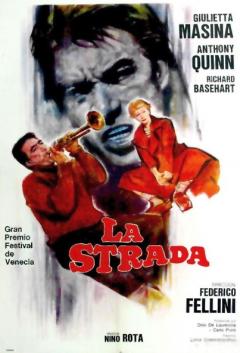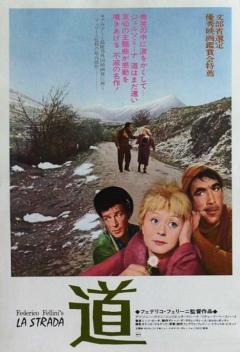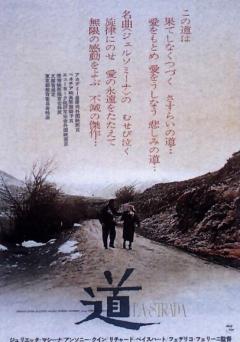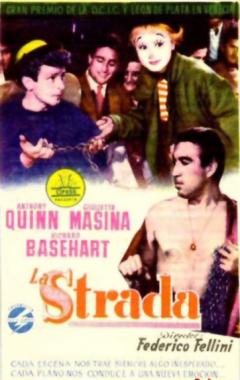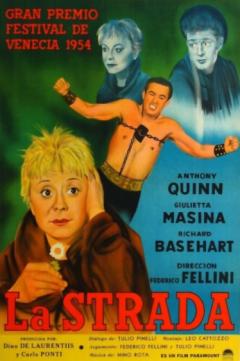 La strada
Production:
Dino De Laurentiis, Carlo Ponti
Zampanò, a violent-tempered man, makes his living as an itinerant fire-swallower. He buys Gelsomina, a naïve young woman for 10,000 lire, and she becomes his assistant. She's forced to become his lover, but she tries to run away, as she is constantly abused by him. She meets il Matto ('The Fool') in a circus; he is a talented artist and a clown, and he teases and humiliates Zampanò whenever he can. During a quarrel, Zampanò accidentally kills Il Matto. Following the murder, Gelsomina is driven crazy. Zampanò abandons her while she is taking a nap. Some years later, he overhears a woman singing a tune Gelsomina often played and he learns that Gelsomina died. Zampanò gets drunk and wanders to the beach, where he becomes fully aware of being lonely. He breaks down and cries on the deserted beach.
Crew
Director:
Federico Fellini
Story:
Federico Fellini, Tullio Pinelli
Screenplay:
Federico Fellini, Tullio Pinelli
Screenplay collaboration:
Ennio Flaiano
Dialogue writer:
Ennio Flaiano
Cinematography:
Otello Martelli
Camera operator:
Roberto Girardi
Musical director:
Franco Ferrara
Production design:
Mario Ravasco
Costume design:
Margherita Marinari Bomarzi
Film editing:
Leo Catozzo
Assistant editor:
Lina Caterini
First assistant director:
Moraldo Rossi
Artistic advisor:
Brunello Rondi
Second assistant director:
Paolo Nuzzi
Makeup artist:
Eligio Trani
Script supervisor:
Narciso Vicari
Still photographer:
A. Piatti
Production manager:
Luigi Giacosi
General manager:
Danilo Fallani, Giorgio Morra, Angelo Cittadini
Cast
Giulietta Masina
: Gelsomina Di Costanzo
Richard Baserhart
: il matto
Aldo Silvani
: Il Sig. Giraffa
Marcella Rovere
: la vedova
Livia Venturini
: la suora
Yami Kamedeva
: la prostituta
Anna Primula
: la mamma di Gelsomina
Awards
Silver Ribbon for Best Director
Silver Ribbon for Best Producer
Silver Lion at Venice Film Festival
Nomination Oscar Best Writing, Best Screenplay-Original
Bodil Best European Film (Bedste Europæiske film Copenaghen)
Peculiarites
"I think I made the film because I fell in love with that 'old child', Gelsomina, a clown who's a fool and a saint at the same time. When I hear the sound of her trumpet I still feel very sad"
Federico Fellini, Fare un film, Einaudi, Torino, 1980, p. 60
Reviews
La strada begins as a sort of nostalgic farce (with the soundtrack by Nino Rota, who was inspired by the first movement of Il Titano's symphony by Mahler), and turns into a Shakespearian tragedy. Gelsomina, interpreted by Fellini's wife, reminds us of Harpo Marx. She is part of the 'white clown' family Fellini loved, while Zampanò is a cruel Augusto, and il Matto a philosopher. The latter explains his own view of morality to the fairy tale viewers: 'Everything has a meaning in the universe, even a pebble has one'. Fellini directed more important films, but he never found the purity of this childish dream again.
" I capolavori del cinema", Garzanti, Milan, 1990
Zampanò is one of the most powerful, solid and dramatic characters of contemporary cinema. The style of the film is one of the purest and clearest ones in Neorealism (it suffices to think of Gelsomina's trip to the big country house , where she finds the sick child. Said scenes are very intense). I don't think it is fair to state that Fellini's film is an escape from reality. We could instead discuss Fellini's nature. I think he is inclined to be an exceptional 'innocent' creature, in a Dostojewskian sense.
"Il Tempo", 7 October 1954
Fellini is an expert story-teller. The tale is light and harmonious, and it draws its very essence, resilience, uniformity and purpose from small details, subtle annotations and soft tones that are naturally embedded in the plot of a story that apparently contains no events. However this apparent simplicity is very rich in meaning and stimuli; they are not always evident. They are not always interpreted with full poetical and human eloquence, but they are hinted at delicately and emotionally.
"Il Secolo XIX", 8 September 1954
La Strada shows that his author is totally aware of some spiritual problems. The film actually deals with holy issues, even though it does not focus on religion. Let's think of one of the early images of the film: Gelsomina has two faces, a sad and a joyful one. Her joyful face turns to the sea, smiles, and then declares: "I enjoy being an artist".
"Cahiers du Cinéma", n. 49, July 1955