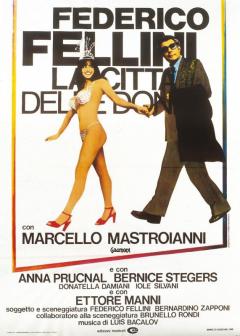 City of Women
Production:
Opera Film Produzione (Roma), Gaumont (Paris)
Word sales:
Gaumont - Italia
During a train ride across the country, Snàporaz, a well-bred fifty-year-old man, wakes up and has a brief fling with a beautiful woman in the restroom. The train suddenly stops and the woman gets off. Snàporaz follows her into the wood, through the wilderness and into a Grand Hotel Miramare, where a lot of women attend a surrealist feminist convention. While Snàporaz – who's taken for a journalist - is searching for the mysterious lady, he is attacked by the feminists. Donatella, a girl who's riding her roller skates, offers her assistance. Dazed, Snàporaz makes his exit down a flight of stairs, falling down and badly hurting himself, and then meets a burly woman tending to the hotel's furnace. The woman is taking a shower and says she'll take him to the train station by motorbike but, as soon as they are in the countryside, she tries to rape him. Snàporaz escapes and is chased by furious women. He finds shelter in Dr. Xavier Katzone's castle. He's one of his former school-mates who is celebrating his career as a womanizer. It is in this party that Snàporaz comes across his ex-wife, who insults him, and meets Donatella, the roller skater, again. After having revisited his childhood crushes (a sitter, a nurse, a prostitute), he is caught by the feminists and brought before a court. He climbs on a ladder and into a hot air balloon having Donatella's shape. Donatella herself fires a machine-gun at him, and the balloon bursts. Snàporaz then wakes up, and he's on the very same train he's been in at the beginning of the film, and is sitting in front of his wife. The train then races into a tunnel and closing credits appear.
Crew
Director:
Federico Fellini
Story:
Federico Fellini, Bernardino Zapponi
Screenplay:
Federico Fellini, Bernardino Zapponi
Screenplay collaboration:
Brunello Rondi
Cinematography:
Giuseppe Rotunno (Technovision - Colore)
Camera operator:
Gianni Fiore
Musical director:
Gianfranco Plenizio
Songs:
"Una donna senza uomo è" (parole e musica di Mary Francolao), "Donna addio" (versi di Antonio Amurri)
Choreography:
Mirella Agujaro
Choreography consultant:
Leonetta Bentivoglio
Production design idea:
Federico Fellini
Production design:
Dante Ferretti
Assistant production designer:
Claude Chevant
Architecht:
Giorgio Giovannini
Assistant architect:
Nazzareno Piana
Set decorator:
Bruno Cesari, Carlo Gervasi
Building supervisor:
Italo Tomassi
Sculptures:
Giovanni Chianese
Paintings and frescoes:
Rinaldo Geleng, Giuliano Geleng
Costume design:
Gabriella Pescucci, Piattelli (per Mastroianni)
Wardrobe assistant:
Maurizio Millenotti, Marcella De Marchis
First assistant director:
Maurizio Mein
Second assistant director:
Giovanni Bentivoglio, Anonio Amurri
First assistant director:
Jean Louis Godfroy (2a unità)
Special effects:
Adriano Pischiutta
Sound:
Tommaso Quattrini, Pierre Paul Marie Lorrain
Makeup artist:
Rino Carboni
Film editing:
Ruggero Mastroianni
Assistant editor:
Bruno Sarandrea, Roberto Puglisi
Assistant editor:
Adriana Olasio
Executive producer:
Franco Rossellini
General manager:
Lamberto Pippia
Production manager:
Francesco Orefici, Philippe Lorain Bernard (2a unità)
Cast
Marcello Mastroianni
: Snàporaz
Anna Prucnal
: la moglie di Snàporaz
Bernice Stegers
: la signora del treno
Ettore Manni
: dott. Sante Kartzone
Iole Silvani
: la motociclista contadina grassa
Donatella Damiani
: Donatella la soubrettina
Fiammetta Baralla
: "Ollio"
Marcello Di Falco
: omosessuale alla festa Kartzone
Gabriella Giogelli
: la pescivendola
Alessandra Panelli
: massaia con bimbo in braccio
Rosaria Tafuri
: Sara la seconda soubrettina
Carla Terlizzi
: una femminista
Jill Lucas
: una delle due gemelle
Viviane Lucas
: una delle due gemelle
Mara Ciukleva
: la vecchia signora di ottantacinque anni
Mimmo Poli
: partecipa alla festa di Kartzone
Nello Pazzafini
: compare nella scena finale dello stadio
Armando Paracino
: uno dei tre vecchi maghi nella sequenza dei ricordi
Umberto Zuanelli
: uno dei tre vecchi maghi nella sequenza dei ricordi
Pietro Fumagalli
: uno dei tre vecchi maghi nella sequenza dei ricordi
Awards
Silver Ribbon Best Director: Federico Fellini
Silver Ribbon for Best Cinematography: Giuseppe Rotunno
Silver Ribbon for Best Costume Design: Gabriella Pescucci
Peculiarites
"Although I have always been interested in dreams, only Citttà delle donne - out of all my films - has almost entirely been like a dream. Everything in the film has a hidden subjective meaning, as in a dream, except the beginning and end, when Snaporaz wakes up in the railway coach. It's the nightmare aspect of Guido's dream in 8 ½."
Charlotte Chandler, Io, Federico Fellini, Mondadori, Milano, 1995, p. 226
Reviews
More anguished than amused, Fellini goes back to Amarcord paths and is increasingly disillusioned by man's role in contemporary world. He declares the film is limited to his autobiography - even though it is dilated - and he does not discover mankind's 'primitive big dreams' theorized by Jung.
Il nuovissimo Millefilm. Cinque anni al cinema 1977-1982, Il Formichiere, Milan, 1983
Fellini is aging (…) , he has reached his splendid maturity and is pleased, as a Cinema Master, to show us his masterpieces. It's a festival of images and colours, and the viewers are pleased as, in a way, they feel they are part of the film. We follow his inventions and we are amazed by every shot (as if we were children discovering cinema). If in La città delle donne there is no story-based suspense, images and movie-set inventions do surprise us.
"La Notte", Milano, 29 March 1980
It is a fairy tale that Fellini was amused to tell (the audience) while recalling all the different steps of his own cinema. He went back to Otto e mezzo and Amarcord's memories or talked about his time, as in La Dolce Vita and Prova d'orchestra, alternating nightmares and dreams, visions, jokes and anecdotes, multiplying and varying languages and techniques, rediscovering imagined and real traits with plenty of flair and imagination. Consequently, we are fascinated and amazed.
"Il Tempo", Roma, 29 March 1980
La città delle donne (…) is the most imaginative and wild film by Fellini, but this doesn't mean it is the best one. Some parts are repeated, even though they are enlarged and refined, and there are some of Fellini's recurring themes (Rimini, the funfair). However, you cannot easily get bored when watching this film, but you can rather fully enjoy it.
'What kind of movie is this?' This is the question Snaporaz-Fellini asks himself at a given point of the story. We reply to this question as follows: despite some excessively figurative scenes, La città delle donne is a great movie, where on top of metaphors – both women and human beings in general are heavily criticized - some components of Fellini's great talent fully emerge: La Dolce Vita's mythological inspiration, Giulietta degli Spiriti's magic thrill, Amarcord's nostalgia, Otto e mezzo's fairy ambiguity.