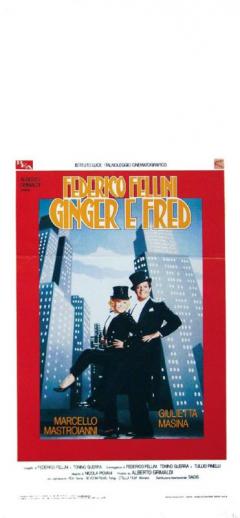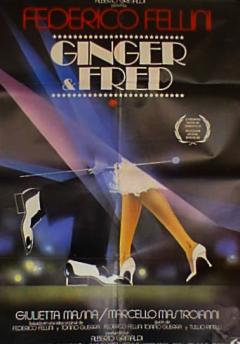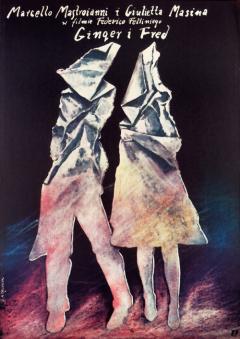 Ginger and Fred
Production:
PEA (Roma), Revcom Films in associazione con Anthea (München), in collaborazione con Rai Uno. Teatro di posa: Cinecittà
Word sales:
internazionale Sacis, italiana Istituto Luce, Italnoleggio Cinematografico
Amelia, a former dancer called "Ginger", arrives at Termini railways station; she is a widower and owns a small business. She has to dance on a television variety show with her old partner Pippo, called "Fred". It's Christmas time and the station is crowded. She catches a bus where she meets some odd characters. She arrives at a grand hotel, where all the staff are watching a football match on TV. Fred has not arrived yet and Gingers goes out of the hotel and is surrounded by a group of threatening bikers on the road. She goes back to her room, hears someone snoring, and finds out that Fred is there, and he has accepted to dance again only because he needs money. They would like to rehearse their old number, but they cannot, as there is a lot of confusion due to all the odd people who are, like them, guests of the TV programme Ed ecco a voi. At the end they perform but their performance is a disaster. Only after the TV channel President congratulates them do they accept to take part in the show, and they it is a success. At the railway station, when they're leaving, they are recognized and sign autographs. Later, after Ginger lent Fred some money, they split. She catches a train. The platform lights are turned off and only the TV channel is on, with its noisy commercials.
Crew
Director:
Federico Fellini
Story:
Federico Fellini, Tonino Guerra
Screenplay:
Federico Fellini, Tonino Guerra, Tullio Pinelli
Cinematography:
Tonino Delli Colli, Ennio Guarnieri
Camera operator:
Aldo Marchiori, Carlo Tafani, Gianni Fiore
Assistant camera:
Gianfranco Torinti, Antonio Scaramuzza, Marco Sperduti, Luca Luparini
Music:
Nicola Piovani (diretta dall'autore)
Production design:
Dante Ferretti
Assistant production designer:
Franco Ceraolo
Special effects:
Adriano Pischiutta
Costume design:
Danilo Donati
Set decorator:
Gian Franco Fumagalli
Architecht:
Nazzareno Piana
Assistant costume designer:
Rosanna Andreoni
Paintings:
Rinaldo Geleng, Giuliano Geleng
Choreography:
Tony Ventura
Film editing:
Nino Baragli, Ugo De Rossi, Ruggero Mastroianni
Assistant editor:
Marcello Olasio
Script supervisor:
Norma Del Pace Giacchero
First assistant director:
Gianni Arduini
Second assistant director:
Filippo Ascione, Daniela Barbiani, Eugenio Cappuccio, Anke Zindler
Makeup artist:
Alfredo Tiberi
Hair stylist:
Aldo Signorelli, Rosa Luciani, Giancarlo Marin
Producer:
Alberto Grimaldi
General manager:
Luigi Millozza
Production manager:
Walter Massi, Gianfranco Coduti, Roberto Mannoni, Raymond Leplont
Production supervisor:
Tullio Lullo, Fernando Rossi, Vieri Spadoni, Franco Marino
Production secretary:
Alessandro Mancini, Lyda Garozzo, Carla Ferroni, Maurizio Pigna, Filippo Spoletini, Marcello Mancini
Dialogue director:
Mario Maldesi
Cast
Giulietta Masina
: Ginger
Marcello Mastroianni
: Fred - ep. Roma
Franco Fabrizi
: presentatore
Frederick Ledenburg
: ammiraglio
Augusto Pederosi
: travestito
Martin Maria Blau
: aiuto regista
Jacques Henri Lartigue
: il frate volante
Ezio Marano
: intellettuale
Antonie Saint Jean
: assistente
Frederick Thun
: sequestrato
Antonio Lorio
: ispettore TV
Barbara Scoppa
: giornalista
Elisabetta Flumeri
: giornalista
Salvatore Billa
: Clarke Gable
Ginestra Spinola
: madre voci trapassati
Stefania Marini
: la segretaria TV
Francesco Casale
: mafioso
Gianfranco Casale
: mafioso
Gianfranco Alpestre
: avvocato
Filippo Ascione
: pianista
Elena Cantarone
: infermiera
Cosimo Chiusoli
: la moglie dello spretato
Claudio Ciocca
: cameraman
Sergio Ciulli
: figlio voci trapassati
Federica Paccosi
: ballerina
Alessandro Partexano
: marinaio
Leonardo Petrillo
: Marcel Proust
Renato Grilli
: Franz Kafka
Daniele Aldrovandi
: Marty Feldmann
Barbara Montanari
: Bette Davis
Barbara Golinska
: Marlene Dietrich
Luigi Duca
: Adriano Celentano
Awards
Silver Ribbon for Best Actor: Marcello Mastroianni
Silver Ribbon for Best Actress: Giulietta Masina
Silver Ribbon for Best Production Design: Dante Ferretti
Silver Ribbon for Best Costume Design: Danilo Donati
David Donatello for Best Actor: Marcello Mastroianni
David Donatello for Best Music
David Donatello for Best Costume Design: Danilo Donati
David René Clair Award to Federico Fellini for the film
Nomination BAFTA (British Academy of Film and Television Arts Awards): Best Foreign Film: Federico Fellini e Alberto Grimaldi
Reviews
The new cinema by Fellini bears witness that a self-destroying civilization, that is using a communication system that adulterates man's knowledge. It thus complains about the messages that are being conveyed by peoples, individuals and institutions, as they are not based on absolute values, but rather on provisional metaphors of the truth. This is the complaint made by an artist who perceives society's delusions in all his characters, their plots, in their celestial or brutal behaviors. It would therefore have been a disheartening film if its power and tragicomic portrayals of some situations had not turned anguish into sneers. [...] Putting the topic of impersonation at the core of the story, and making almost everything in the studio, Ginger e Fred is the best film that has ever been made on the unreal and TV-coded situations we are living in. We're happy that it was Fellini, a cinema master, who bitterly reminded us that we are all look-alikes, and maybe that's the reason why we feel lost on our planet.
Il cinemondo. Dieci anni di film 1976-1986, Laterza, Roma-Bari, 1987
This film can be compared to La dolce vita because his author- Fellini- goes on making the same film. The role played by weekly magazines when La dolce vita was released twenty years ago is now played by TV mega-shows for Ginger e Fred. There is no doubt that Fellini continues to be the same person: storyteller, magician, illusionist, deceiver, histrionic and willing to do anything to be able to make his films. His purpose is showing that life is still very sweet and essential. [...] Apparently Fellini's gaze has changed: it is more disheartened now. If La dolce vita was defined as a journey through disgust, Ginger and Fred reports vulgarity in television, advertisements, consumer society. This can also be seen through the messages conveyed: Rome's decay, for example.
"Il Giorno", 14 January 1986
This film was splendidly shot and thus allowed Fellini to score a great success. But what kind of movie is it? Is it simply giving Giulietta and Marcello the chance of performing again? Or is it simply adding something to what we already knew about Fellini and his world? The almost unanimous response on the part of French newspapers - worried about Berlusconi's increasing power - is that Ginger and Fred reports the cultural genocide perpetrated by TV's decline. Others argue that it is not a pamphlet against TV, but rather against todays' society: a sort of Prove d'orchestra Parte II [...] Ginger and Fred's stoic meaning is that maybe there is nothing to understand, we just have to lead our lives. We must learn how to stay afloat, as Marcello did in La dolce vita, even though we now get the impression we're floating on a polluted sea as Ginger and Fred did.
"La Repubblica", 13 January 1986
Let's imagine the film is like a show designed by Constanzo, Tortora, Aiazzone, Ed Sullivan, Rai 3 documentaries, Silvio Noto, the old Italnoleggio and Jerry Lewis' minds put together. Fellini can then just add his artistic touch that turns night into light, and vulgar aspects into sublime ones. Fellini is a magician, as he can discuss everything and talk to everyone. He knows how to seduce viewers without signing Canale 5 TV contracts.
"Il Manifesto", 25 January 1986