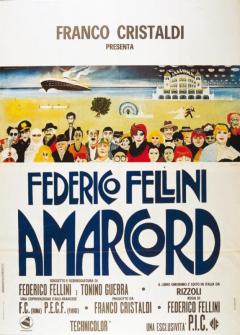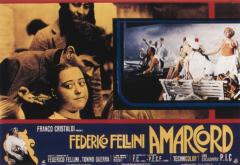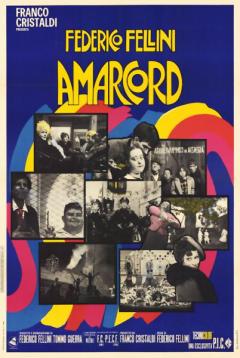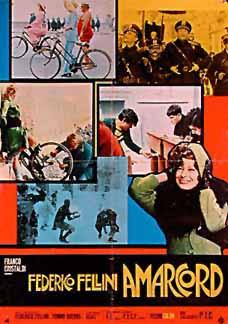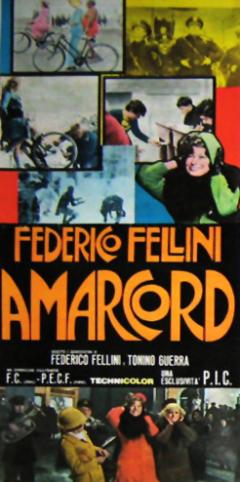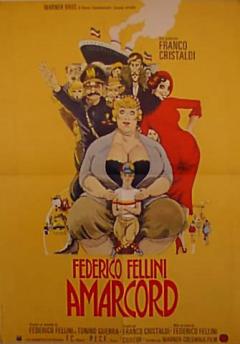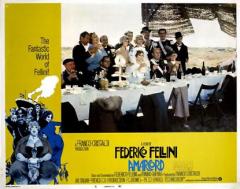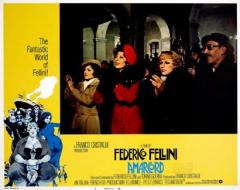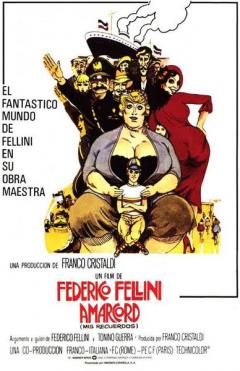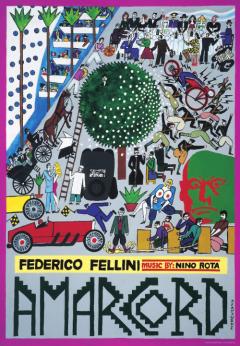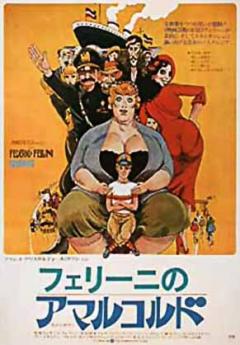 Amarcord
Production:
F.C. Produzioni (Roma), P.E.C.F. (Paris)
Word sales:
Dear International
The film is set in the thirties in Rimini. Titta is a teenager who is growing up with a Catholic education and the Fascist rhetoric. His father Aurelio is an anarchical and antifascist master mason, who has to support his two sons, his wife, his lively old father, as well as his brother-in-law - uncle 'Pataca' – who is a boaster and a loafer. His brother Teo is shut up in a mental hospital. The inhabitants of the town are very peculiar: Volpina, a nymphomaniac, Giudizio, the town idiot, Biscein, the town's inveterate liar, the exhibitionist motorcyclist, the blind man who's playing the accordion relentlessly. Titta attends the local high school, where his teachers and friends are busy with oral tests and jokes alternatively. Titta's sentimental education is divided between the unreachable Gradisca, the village beauty - a stout and buxom tobacconist - and summer dancing at the Grand Hotel, that he spies on behind the fences. Titta shares the passing of seasons, the fireworks welcoming the Spring, and the events like the Mille Miglia and the passing of the Transatlantic Rex, the visit of the Fascist party official and heavy snowfalls with his neighbourhood or borgo. With the death of Titta's mother and Gradisca's wedding his adolescence comes to an end.
Crew
Director:
Federico Fellini
Story:
Federico Fellini, Tonino Guerra, da un'idea di Federico Fellini
Screenplay:
Federico Fellini, Tonino Guerra
Cinematography:
Giuseppe Rotunno
Camera operator:
Giuseppe Maccari
Assistant camera:
Massimo Di Venanzo, Roberto Aristarco
Musical director:
Carlo Savina
Production design idea:
Federico Fellini
Production design:
Danilo Donati
Costume design:
Danilo Donati
Architecht:
Giorgio Giovannini
Production design assistant:
Antonello Geleng, Massimo Geleng
Assistant costume designer:
Rita Giacchero, Aldo Giuliani
Film editing:
Ruggero Mastroianni
Assistant editor:
Adriana Olasio
Sound:
Oscar De Arcangelis
Script supervisor:
Norma Giacchero
First assistant director:
Maurizio Mein
Second assistant director:
Liliana Betti, Gerald Morin, Mario Garriba
Makeup artist:
Rino Carboni
Special effects:
Adriano Pischiutta
Hair Stylist:
Amalia Paoletti
Set decorator:
Andrea Fantacci
Pittore scenografo:
Italo Tomassi
Producer:
Franco Cristaldi
Production manager:
Lamberto Pippia
Production supervisor:
Alessandro Gori, Gilberto Scarpellini
Cast
Pupella Maggio
: Miranda la madre di Titta
Armando Brancia
: Aurelio il padre di Titta
Stefano Proietti
: Oliva il fratello di Titta
Giuseppe Lanigro
: il nonno di Titta
Nandino Orfei
: il "pataca" zio di Titta
Ciccio Ingrassia
: Teo lo zio matto
Carla Mora
: Gina la cameriera
Magali Noël
: la Gradisca
Maria Antonella Beluzzi
: la tabaccaia
Josiane Tanzilli
: la "Volpina"
Domenico Pertica
: il cieco di Cantarel
Antonino Faà di Bruno
: il Conte di Lovignano
Carmela Eusepi
: la figlia il Conte di Lovignano
Gianfilippo Carcano
: Don Balosa
Francesco Maselli
: Bongioanni il professore di scienze
Dina Adorni
: signorina De Leonardis la professoressa di matematica
Armando Villella
: Fighetta il professore di greco
Francesco Magno
: il preside Zeus
Gianfranco Marrocco
: il ragazzo Conte Portavo
Fausto Signoretti
: il vetturino Madonna
Donatella Gambini
: Aldina Cordini
Fides Stagni
: la professoressa di belle arti
Marcello Di Falco
: il Principe
Ferdinando De Felice
: Cicco
Awards
Academy Award for Best Foreign Film
Nastro d'Argento Best Director
Nastro d'argento for Best Original Screenplay
Nastro d'argento for Best Original Screenplay
David di Donatello Award for Best Director: Federico Fellini
Oscar Nominees for Best Director (Federico Fellini)
Writing Original Screenplay and Production Design (Federico Fellini and Tonino Guerra)
Bodil Award (Copenaghen) for Best European Film
NYFCC (New York Film Critics Circle) Award for Best Film and Best Director: Federico Fellini
SFCC (Le Syndicat Francais de la Critique de Cinéma) Film Critics Award for Best Foreign Film
Kinema Jumpo (Tokyo) Award for Best Director: Federico Fellini of the Best Foreign Film
Peculiarites
"Memory is not the prevailing trait in my films. Saying that my films are autobiographical is nonsense. I have invented almost my whole life. I did that expressly for the screen. Before shooting my first film what I did was getting ready to be tall and stout enough and to have all the energy needed to say "Action!" one day. The purpose in my life was finding out how to become a director, nothing more. I have no memories for the rest of my life. People say that I have a memory-based expressive life. This is totally false. My films include no anecdote or autobiographical element, but they bear evidence of a given season of my life. From this point of view, then I can say that my films are autobiographical. This applies to every poet writing poetry, or every painter putting autobiographical colours on his/her canvas: all verses and colours are autobiographical."
Federico Fellini in Il film "Amarcord" di Federico Fellini, a cura di Gianfranco Angelucci e Liliana Betti, Cappelli, Bologna, 1974, p. 95
Reviews
We have to love Amarcord unconditionally. Fellini feels at peace again, and writes an almost objective story. Going back to his mocking memories of his own education in the area he comes from, the director of I Vitelloni recollcts jokes and tricks open-mindedly, and tries hard not to be moved and not to draw any conclusions. The whole film is characterized by a master's signature, but some scenes are particularly impressive: a quarrel at lunch-time, that reminds us of another Italian genius, Eduardo De Filippo, the countryside trip with his crazy uncle (a wonderful Ciccio Ingrassia), students dancing in front of Grand Hotel, closed in the winter season, and the magical appearance of the Transatlantic Rex. They are all symbols of a foolish and at the same time relevant age, that C.G. Jung would have appreciated.
"Il mille film. Dieci anni al cinema 1967-1977", volume I, Il Formichiere, Milan, 1977
In Amarcord, that in Emilia Romagna dialect means 'I remember', Federico Fellini shows how he can get rid of nostalgia and evoke his past ghosts. Thanks to a sociologic awareness – that had apparently been lost after La Dolce Vita – Fellini directs a film evoking a magic and painful path across the gardens of his adolescence, that he looks at through a grotesque magnifying lens. He thus voices his clear opinion on some shameful Italian events of the past, through clumsy melodrama, funny tragedy and childish behaviours.
"Gli anni settanta in cento film", cit.
Amacord is Fellini's simplest and least aggressive film that he has made for a long time and that's the reason why we like it. (…) We're captured by Fellini's unexpected delicate and simple dimension. The wizard does no longer resort to bombastic spells, but rather to a sort of hidden and magical realism, where magic blunts reality slightly, but at the same time gives it back to us after filtering it through less striking but deeper aspects.
"L'Unità", Milan, 19 December 1973
Federico Fellini perfectly evoked a universe of ghosts from his past, with neither happiness nor cruelty. In Amarcord's best scenes Gradisca is the main character: her erotic stories have a high-quality expressionist flair, while the outdoor wedding in the end mockingly shows how vane our rituals are. Alternating sad and sardonic tones while describing funerals, the hasty car drive to hospital or the 'fogarazza' (burning of the Befana) episode, Fellini describes a provincial 'epos' which is never coarse or pathetic. Fellini, now at the height of perfection, has learnt how and when to stop. He also resorted to a very strict and faultless editing.
"Il Giorno", Milan, 19 december 1973
"Fellini comes back to Emilia Romagna and reports the events occurring in Rimini during the Fascist Era. It is one of the best films directed by Fellini (it is an Academy-Award winning film). Fellini wrote the screenplay together with Tonino Guerra, writer, screen-writer and poet. Thanks to the wealth of faces, places, entertaining and refined events, melancholy and suggestions, the film was appreciated by audiences all around the world. In the re-enactment of Rimini's life under fascism, Amarcord is a comedy with a vein of melancholy, and encompasses a lot of moods and feelings. Was it a memory-based or a political film? Or else a nostalgic or critical film? In his 'mystifying' interviews, Fellini discussed what we inherited from Fascism, namely oppressive social conditions, cultural poverty and ideological constraints. All these elements appear in the film as intangible aspects representing a particular historic period as well as human beings' conditions which will never be radically changed, either by dictatorships or by progress."
in Fernaldo Di Giammatteo, Nuovo dizionario del cinema, I film A-L, Editori Riuniti, 1984